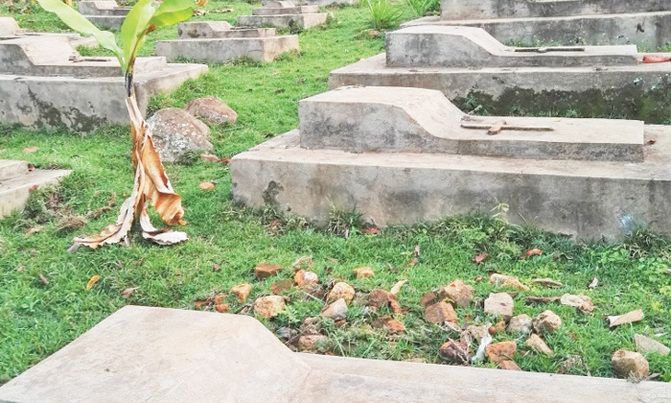 A few weeks before the Tanzanian troops and forces of the Uganda National Liberation Front crossed Mutukula, Amin warned residents that the Tanzanian troops had come with soldiers infected with strange diseases and that women should not have sex with them.
One of the graveyards in the area. Photo by Davis Buyondo
HIV/AIDS AMIN DEATH
It is a bright morning with clear skies and there is no sign that it will rain.
I am destined for Magango, a remote village in Gwanda parish, Kyebe sub-county. From Kyotera town, our taxi arrives at Kyapa trading centre, 12km along Kyotera-Mutukula highway.

On a motorcycle, I ride 26km along Kyapa- Kasensero road. I arrive at Magango village at the home of Matia Luyinda, the LC1 chairperson, who shows us around. Several maize and coffee plantations are withering. However, mango trees are thriving. Under a huge mango tree, my eyes meet a set of graves.

I could count 17. Still, several households in the area have graveyards, where they buried not less than 15 people. This is a mark that will characterise most of Magango forever. This is the village where, Golodiyani Kivumbi, the first person to be diagnosed with HIV/AIDS, lived.

He was a popular carpenter and revenue collector at Kasensero landing site. Kivumbi lived, worked, died and was buried in Magango. His three wives and 11 children also died of AIDS. His first wife, Lovinsa Nanteza, had eight children and seven died. They are Vincent Muganga, Lawrence Lutaaya, Victor Lusekera and Betty Nakivumbi.

Others are Harriet Najjemba, Godfrey Muyimba and Godfrey Ssekyaya. Only Golodiyani Kiganda survived. HIV sneaked into the village unnoticed and by the time scientists discovered it in 1982, many had died. The only explanation Magando and the neighbouring areas could come up with, was witchcraft.

Senior residents, who survived the AIDS scourge said the strange disease claimed hundreds in just six years before it was discovered. They estimate that 2,000 people died of HIV/AIDS. "Can you imagine I was the only one, out of 15 people, who survived death? I had to shoulder all the orphans," Kiganda said.
Imelda Namagembe and her child. Photo by Davis Buyondo

"Our family has not received any help. We are talking about medical bills, school fees, feeding and clothing. Some orphans died." Magango neighbours Kimote, Lugobe and Magoba villages, which shared almost the same plight. Jude Kayiira, the Kimote LC1 chairperson, says they lost many residents since those in Magango and other surrounding villages would infect each other.

DEATHS BEFORE 1980
"We know of families that were completely wiped out between 1973 and 1980; all parents and children died," says 73-year-old Churchill Wangi, one of the elders. He says families lost five to 20 people during the prime years of the AIDS wave.

And since the community believed it was witchcraft stemming from fish, purportedly stolen from Tanzania, the deceased were buried with their household items, clothes and money. He says witchdoctors said that was the sure way to cleanse families of the curse. Wangi says his friend, Stephen Ddiiro, lost his two wives and 20 children.

His 10 grandchildren followed after 1980. He adds that in their cohort of 50 peers, only two survived (him and another). "I do not know how God spared us because we used to sleep with the same women without protection.

It is around this time that I began to live cautiously to save my wife and our children. However, six of my children died of AIDS between the late 1990s and 2000," he recounts. Emelda Namagembe, 69, recalls her seven friends who died of AIDS. She says they would get hitched to prominent businessmen and fishermen, most of whom had the virus.

She adds that some children contracted HIV because they did not know how to handle people living with HIV. "They would share syringes and poorly handle boils and wounds and vomit of patients," she notes. Other families that lost parents and children include that of Ssonko Katabi Baloole.

Ssonko, his wife and seven children died. Also, Lawuli Mboneko, his wife and seven children died. In Kipingo's family, all 12 children died before the parents. Also, Samula Lubega and his wife died and their 14 children followed. Following the rampant deaths, Namagembe explains that people feared the village to a point that family members in other villages feared their relatives in Magango.

"They would not visit or host relatives from Magango," she said. Maliserina Nabukeera, 85, said AIDS victims would die miserably. "They would waste away, lose hair, rot and stink. Men's private parts would fall off," she recalls. According to Nabukeera, one family would have at least three or five people bedridden at the same time.

And more painfully, they would die on different days. There were no drugs then and people resorted to herbal concoctions, cleansing and spiritual divination, which did not help. Gregory Nyanga, 70, lost more than 50 friends to AIDS. He says they remained only eight in their group, who is HIV-negative.

They include Nyanga, Francis Ssentongo, Charles Lutante, John Kizza, Zevelio Matovu, Beleti Ssenkima, Vincent Mutebi and Joseph Kayemba. He attributed the rapid infections to affluence. The majority who died had money and would use it to get all sorts of women, he said.

"They shared local women and even paid for Tanzanian prostitutes," he says. "The few who survived were too poor to take women on dates and those whose parents were strict. He notes that hundreds of children were born with the virus during that time and as they grew up, they infected fellow children in one way or another.

"I believe that if those who died were still alive, Magango would be overpopulated," he argues. Emelda Kanooro, whose husband and 11 children died of HIV, says she struggles to care for 20 orphans. Some children died two years before 1980, while others in recent years.

"I sometimes wonder where to get food, school fees, clothing and beddings for them. Even in the Universal Primary Education (UPE) schools, some requirements are needed," she says.

DEATHS FROM 1980
Still, hundreds continued dying and the majority got infected after 1982 when Kivumbi was diagnosed with HIV. He died in November 1982, together with a prominent elder, Lawrence Matovu Kanyeete. Joseph Kayemba, an elder in Magango, recounts that even after the first diagnosis, the deaths intensified.

"Between 1982 and 1983, we would bury at least two to three people every day. My colleague, Namugerwa, passed on and her eight children followed. Others that died after her include Edward Muchombe, Ssansa Lukoko and his brothers, Vincent Sango, Fabian Munoonya, Matiya Mugerwa, Kalengezi and Ssensamba," he said.

At that time, he added, families were big. Parents would have seven to 12 children. And those with two or three wives would have more than 20 children. But most of them died.

Luyinda says the majority of the people in his village are HIVpositive, according to different non-governmental organisations managing the scourge in the area. "The high level of poverty in this village may push people into making wrong decisions," he says.

AMIN WARNS ABOUT HIV
According to elders and local leaders in Kyebe, former president Idi Amin cautioned them about a disease that was killing people and had no cure. "A few weeks before the Tanzanian troops and forces of the Uganda National Liberation Front crossed Mutukula, Amin warned them about the invading forces.

He warned that the Tanzanian troops had come with soldiers infected with strange diseases and that our women should not have sex with them," Joseph Kayemba, a survivor, says.




He warned that the Tanzanian troops had come with soldiers infected with strange diseases and that our women should not have sex with them