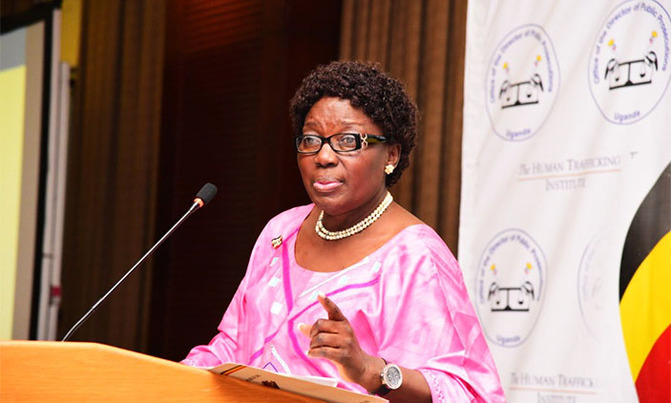 "Why are you a one man office? Why don't you work hand in hand with other entities to cub the crime?"
The Speaker of Parliament, Rebecca Kadaga, has called upon the government and non-government entities to work hard and fight human trafficking which is at utmost in Uganda.

While attending a dinner commemorating a 10 years' anniversary on the prevention of trafficking in persons Act 2009 on Wednesday, where she was the chief guest, Kadaga expressed grief on how human trafficking has kept rising and people responsible are not doing enough to curb the crime.

The gala organized by the Directorate of Public Prosecution (DPP's) office in conjunction with the Human trafficking institute attracted representatives from the Ministry of Internal affairs, ministry of gender and labour, the Anti-human trafficking organizations, DPP, and the Statehouse anti-corruption unit boss among others who graced the occasion.

In her speech, Kadaga asked the Anti-human trafficking task force desk boss, Commissioner of Police Coordinator, Moses Binoga to always deal with other organizations and stop running the desk alone.

"Why are you a one man office? Why don't you work hand in hand with other entities to cub the crime?" asked Kadaga.

She added that from her area, she always advises youth who want to go to the Middle East for work not to be victims of human trafficking because most of them are taken through Lwakhakha border to Nairobi, from where they proceed to the Middle East.

While Napac, Iganga, Masaka, and Rakai are the hot spots of internal trafficking, the DPP Mike Chibita, said that a few cases of human trafficking have been prosecuted.

When traffickers get arrested, victims demand their refund and after getting their money, both parties agree to settle out of court. That is why prosecution is very low," said Chibita.
n
Although some girls go willingly, Kadaga blamed immigration offices for being involved in trafficking people externally.