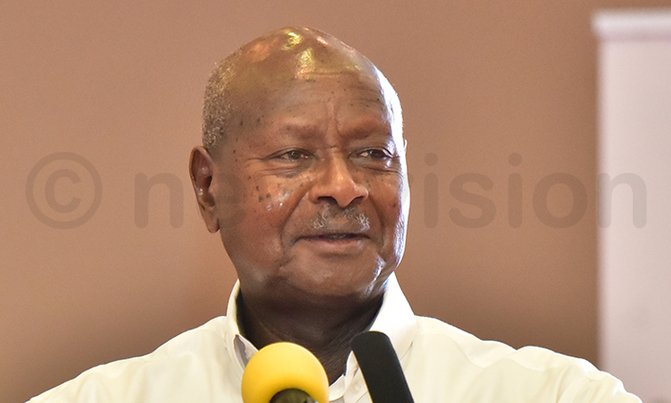 The President now deputises Queen Elizabeth of the United Kingdom as the patron of the Commonwealth Conference for a period of one year
President Yoweri Museveni has welcomed the 64th Commonwealth Parliamentary Conference (CPC) delegates to Uganda.
"It gives me great honour to welcome Speakers and Deputy Speakers of Parliament, Members of Parliament and distinguished delegates to Uganda for the 64th Commonwealth Parliamentary Conference," he said in a written message.
CPC is the largest annual gathering of the CPA that will begin tomorrow to September 29 under the auspices of the CPA president-designate, Speaker Rebecca Kadaga.
The CPA flagship event is expected to bring together over 500 legislators, parliament staff and decision-makers across the commonwealth, under the theme; "adaption, engagement and evolution of parliaments in a rapidly changing commonwealth."
The conference that will be climaxed with a General Assembly later in the week will take place at the commonwealth resort hotel in Munyonyo.
With Uganda hosting the meeting, President Museveni now deputises Queen Elizabeth of the United Kingdom as the patron of the Commonwealth Conference for a period of one year.
Museveni highlighted that Uganda last hosted the conference in 1967 and added that, "we are glad that we are hosting the Commonwealth delegates again."
He acknowledged the contribution of the Commonwealth Parliamentary Association (CPA) and indeed of Women Parliamentarians in advancing good governance and in ensuring effective parliaments.
"Your efforts in promoting women's representation in Parliaments and in participation in governance is an ideal we cherish and practice as seen by the affirmative action in Uganda's Constitution and its policies, which have given women more opportunities to run for elective office," he said.
Museveni observed that Parliaments are key in the growth and development of a nation because give voice to the wishes and aspirations of the people and superintend over the activities of governments to ensure it is accountable to the people.
"Parliaments, therefore, play a critical role when they articulate the wishes of the people, through its oversight roles and ensure resources are put to sectors that drive growth and national development," he noted.
The CPC theme is, "Adaption, Engagement and Evolution of Parliaments in a Rapidly Changing Commonwealth," which Museveni says it speaks to the need for Parliaments to reform, promote two-way communication and rebuild trust with the population whose interests you represent in the legislature.
He said Parliaments should thus adapt to how they reach out and engage with the public especially through its committee systems and outreach programmes because they are key avenues of public participation in ensuring that the citizen's interests feed into the law-making processes.
"Indeed, your theme augurs well with a Parliament that aspires to be people-centred. There is, therefore, need for continuous public engagement, information and education so as to enhance public confidence in Parliaments," Museveni added.