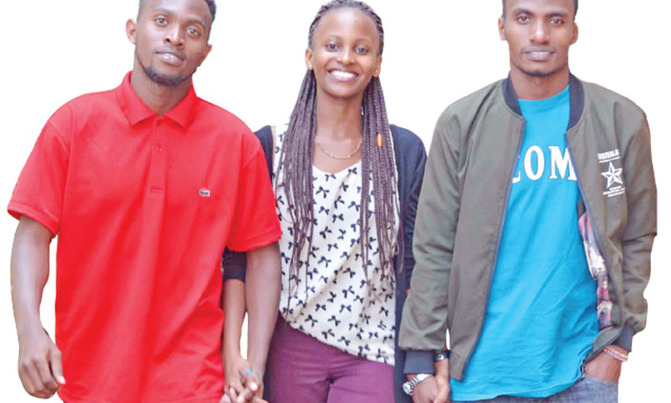 "Our friends would not dare disturb or assault any of us because an attack on one of us would provoke the rest into a joint reaction.
Triplets Samuel Aguma, Esther Ashaba and Saul Baguma had a paradoxical childhood.
They were intensely close to each other and did everything together. But they were also confrontational towards each other.

Ashaba gives an interesting testimony. "We used to fight every time. We mainly fought over Television programmes. I was crazy about cartoons. Aguma and Baguma preferred soccer and this would spark off a fight.

Mom had to be attentive all the time; ready to separate and reconcile us in case we started to fight," Ashaba says.

Despite their confrontational disposition, Aguma, Ashaba and Baguma related closely and did many things together. They also shared each other's joys and pains.

"We studied together in primary and secondary school. We attended Sunrays Primary School, Makerere, Katikamu SDA and City Secondary School, Wakiso.
Samuel and I just went ahead of Baguma, when he repeated P6. It was also after S6 that we went to different institutions," Ashaba adds.

ALL FOR ONE

Ashaba says their closeness the triplets had was always recognised and respected by their peers at school.
"Our friends would not dare disturb or assault any of us because an attack on one of us would provoke the rest into a joint reaction.

"Being a girl, I was the best beneficiary of our sibling solidarity. Aguma and Baguma were protective of me and would not let anyone bully or harass me.
The triplets as toddlers: Aguma, Ashaba and Baguma. They have remained close friends
We were a trinity. One time, Aguma committed an offence at school and was given some lashes. As he was being punished, Baguma and I were also crying."

Aguma also gives a testimony of how their triplet status won for them favours. "Our fellow students liked us and always gave us special treatment.

Everybody was keen to identify with us. Students and teachers always gave us immense attention and love.
They made sure we were the first to get food. Nobody would dare assault us because if they did, all and the students would charge at them. If we missed classes for just one day, all the students would come home to find out the cause of our absence."


A BLESSING

Ruth Twinamatsiko, their mother, says her triplets are a living miracle. "I consider them to be a heavenly blessing. My husband, Col Fred Twinamatsiko and I had lived together for 10 years without a child.

We prayed to God day and night. God eventually answered our prayers by giving us not only one but three babies at a go.

"We were overjoyed and started raising up our beautiful babies. Initially, they used to fall sick often, but later their health stabilised.

Our triplets were liked by relatives and friends. On their birthday, people would have to bring three gifts; one for Aguma, one for Ashaba and one for Baguma." Aguma, Ashaba and Baguma were born on January 20, 1998. They are now aged 21 years.


EDUCATION

Aguma completed his studies in hotel management at the YMCA, last year. Ashaba has also finished her bachelor's degree in records keeping and archives at Makerere University.
Baguma is still in his second year at Kyambogo University, where he is pursuing a degree in fashion.
The triplets share a passion for sports. Aguma is crazy for soccer. Ashaba and Baguma are volleyball enthusiasts.