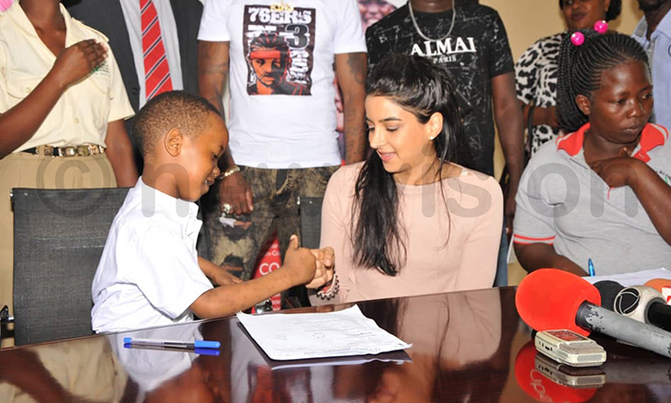 The scholarship at Kampala Parents School will last for seven years
Patrick Ssenyonjo, popularly known by his stage name Fresh Kid, on Thursday officially enrolled at Kampala Parents School for studies.
The musician, a former student of St Agnes Primary School in Kawanda, joined the high-end school after receiving a scholarship from the Ruparelia Foundation.
Fresh Kid on his first day was paraded before the media where for a joint press conference between his Parents, the school administrators, Ruparelia Foundation representatives, child singer Baby Gloria as well as other musicians.
The principal of the school, Daphine Kato, promised to help Fresh Kid balance his musical career and academics.
She, however, warned his managers against wearing him out, saying it will deter him from concentrating on his examinations.
"We do not want him to come to school when he is very tired and fails to concentrate. We want him to always have time to rest and do his work," she said.
Mary Kobusinge the Ruparelia Foundation manager said the scholarship which will last for seven years and that it should not be taken for granted but should be respected.
"The scholarship will facilitate everything he requires academically including dropping and picking him to and from school," she said.
James Wasula, the chairman of the Uganda Performing Rights Society, advised Fresh Kid's managers not to allow the youngster to perform at night or for a period exceeding two hours.
"This is a minor, his hours on stage have to be regulated," he said.
He also advised the singer's parents to protect his songs so that he can patent them in the future.
His parents applauded everybody who has been behind uplifting their son, saying this was a dream they never thought could come true.
"We never thought that at one time we would sit with these kinds of people, we feel humbled and very appreciative to all your efforts," said his father Paul Mbogo Mutabaazi.