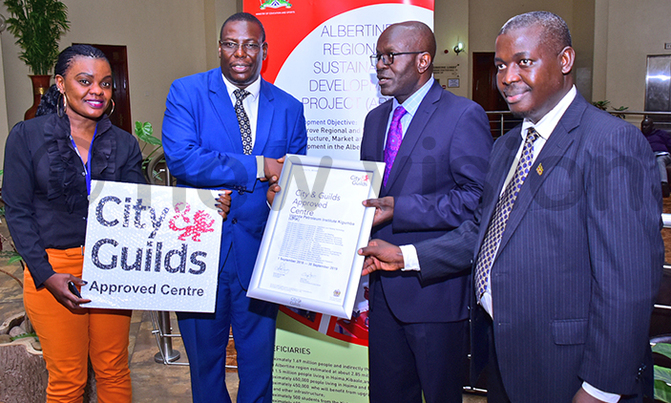 The Uganda Petroleum Institute Kigumba was accredited by the City and Guilds London Institute
The Uganda Petroleum Institute Kigumba (UPIK) targets to start its official training with 200 students later this year.
This comes after the institute was accredited by the City and Guilds London Institute, a global body that sets the standard for professional and technical skills in oil and gas.
They also validated and approved five courses to be taught. They include; upstream petroleum operators, downstream petroleum operators, electrical maintenance, mechanical maintenance and instrumentation. The curriculum was reviewed by the French Petroleum Institute (IPF) among other stakeholders.
Speaking at the UPIK curricula validation workshop at the Imperial Royale Hotel in Kampala, the institute's principal, Bernard Ongodia, said this was a great step for the country in the training and development of specialised skills for the sector.
The curricula include upstream operations, downstream operations, electrical maintenance, instrumentation and mechanical maintenance.
"You are well aware that the Government of Uganda has initiated several infrastructure projects to facilitate the development of the oil and gas industry. We have been informed that the target for the Final Investment Decision for most of these projects is this year. This is exactly what the country has been yearning for," he added.
Ongodia said the achievement will not only contribute to the employability of citizens but also to the sustainable development of the country through enhancement of local content.
He said they plan to start training in September.
He thanked the World Bank, ministry of education, French Petroleum Institute (IFP) and Mumza Consortium partners who supported the process.
"We are confident that we now have a set of an academic prospectus that will enable our students to be truly competitive in the global workplace," Ongodia noted.
The permanent secretary in the ministry of education, Alex Kakooza, said they have been waiting for the certification and validation from the international body which has been achieved.
He said it is a big milestone for the Oil and Gas industry, which now opens up opportunities for Ugandans who want to train in the various disciplines.
"This accreditation means that the institute's qualifications are recognized internationally and our graduates can work anywhere in the world," he stated.
The Uganda Petroleum Authority indicates that the sector will directly employ 14,000 and create 42,700 indirectly.
Kakooza said those with oil and gas qualifications from other institutions should polish them with the national awarding institution in oil and gas for them to qualify to work in the sector.
The whole process was supported through the Albertine Regional Sustainable Development Project (ARSDP) together with the Ministry of Education and UPIK.