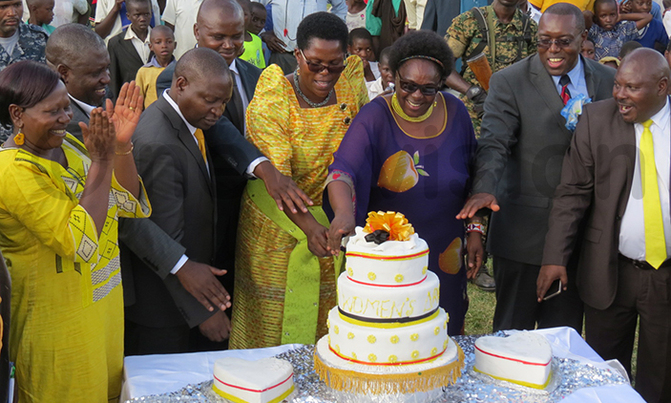 "His leadership has seen this country achieve in all aspects and thus we cannot just lose him like that"
The minister in charge of general duties in the Office of Prime Minister, Mary Karooro Okurut, has said that National Resistance Movement (NRM) legislators had credible reasons for supporting the sole candidature of President Yoweri Kaguta Museveni for the party ahead of the 2021 elections.
According to Karooro, Museveni has since 1986 helped Uganda experience positive changes are deserving of the reward of supporting his leadership further.
"It is undoubtedly real if we say that Museveni is heaven sent for Ugandans. His leadership has seen this country achieve in all aspects and thus we cannot just lose him like that," said Karooro.
She was speaking as the chief guest at the belated Kabale district Women's Day celebrations on Friday at Kabanyonyi Primary School playground in Buhara sub-county, Ndorwa East Constituency.
Karooro blasted opposition politicians who are against the NRM party's decision, saying that they lack the moral authority to criticise a decision taken by a party they do not belong to.
"I hear some opposition politicians saying that NRM is not democratic for endorsing Museveni for 2021. Since when did the opposition start deciding for NRM? If they do not like Museveni, let them send in their candidates in the general elections and we defeat them as usual," she said.
She further urged women to form associations to get government support in their development ventures.
Speaking at the same function, David Bahati, the state minister for finance and planning said that the NRM government continues to cherish the visible contribution of women in the development of the country and thus there are plenty of reasons to celebrate them.
"Women are agents of change and in our country; there has not been any positive transformation without the contribution of women. This is the reason as to why President Museveni has over 15 ministries led by women," said Bahati.
He said that the government intends to dedicate over sh40b towards the Women Fund to support their development.
Bahati added that government will also ensure that it provides ambulances on lead health centres to help pregnant women access medical care and thus reducing maternal mortality rates.
The Ndorwa East MP, Wilfred Niwagaba, said that Parliament has done several things to empower women in the country.
"We passed the Land Act to enable women to endorse land-related transactions in families without any hindrance. Another law that empowers women in decision making is the Security Interest Act where one can access a loan and use any other property to get it without any trouble," he said.
Concerning the ongoing Rwanda-Uganda border standoff, Niwagaba prayed for a peaceful resolution between the leaders of both countries to revamp the lost businesses in the area.
"Most of our people are seriously finding life hard since this crisis started. Their sources of livelihood were blocked since they cannot have their potatoes sold in Rwanda anymore. We pray that this gets solved as soon as possible," he said.
The Kabale resident district commissioner, Darius Nandinda used the platform to warn NRM leaders against being confused by people who are not pro-government.
"NRM has always taken good decisions for this country and thus all our leaders ought to embrace them. What beats my Understanding is to see an NRM leader opposing what fellow leaders have agreed to support. It is high time we supported leaders who are focused on general development," said Nandinda.