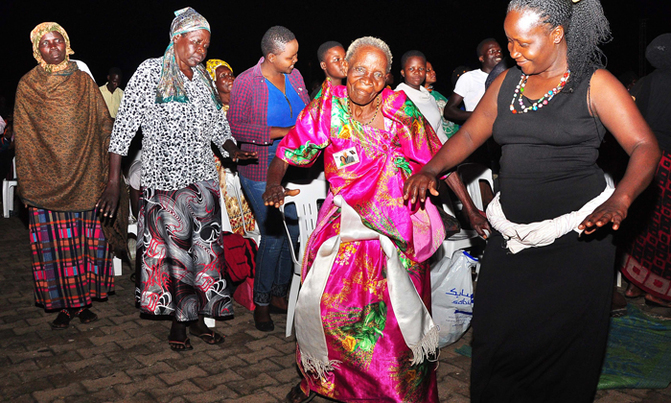 Thousands of Ugandans thronged churches, major hotels and streets as they eagerly waited for 2019.
NEW YEAR CHURCH HOTELS
Ugandans went to different places to welcome the New Year.
Don't be manipulated by pastors into giving your money - Pr. Ssenyonga

By Agnes Nantambi

The leader of Christians Life Church in Bwaise, Pastor Jackson Senyonga, has advised the born-again Christians to stop being manipulated by pastors into giving money and leave themselves bankrupt.
Christians praying as they usher in the New Year. Photos by Juliet Kasirye

"Some of you go to churches where the pastor asks everything from you and you surrender them, which is not right," he said.
Pastor Ssenyonga

According to him, giving is a right aimed at tapping into the Lord's blessings whereby many people give less, but gain much.
He reminded Christians of the opportunity of tapping into his blessing by giving others. He emphasised the point that if one fails to give, his or her players, will not succeed because the lord will be looking at what has remained behind.


Senyonga prophesized 2019 as a year of miracles with significant breakthroughs.


Thousands throng Miracle Centre Cathedral

By Lawrence Mulondo

By 3:00pm yesterday, thousands of Christians had already filled up Miracle Centre Cathedral grounds to usher in 2019.
The fun-filled service was attend by people from as far as America, Singapore and Australia was spiced by singing, dancing shouting, testimonies and praying.
While preaching during the prayers, Pastor Robert Kayanja said 2019 will be a year of obedience and good behaviors adding that bars will close down, corruption will be no more and witches are to get saved.
"2019 is year of set free for all believers and Uganda at large. Ugandans should yearn to be set free," he said.


At 12:00am, fireworks were popped at the church and Christians were hosted to barbecue and performances by worship teams.
Lwanga calls for hard work
By Matthias Mazinga
The Archbishop of Kampala Archdiocese, Dr. Cyprian Kizito Lwanga has asked Catholics and all Ugandans to work harder and eradicate poverty from their homes.
He also asked the Christians to have continuous renewal of their spiritual life.
He further asked them to work for peace and love, which he said was the will of God for humankind.
Archbishop Lwanga was delivering his homily during the New Year's Eve Mass at YES Centre, Nsambya.
The mass was graced by thousands of people, who included among others the Head of the Catholic Laity of Uganda, Gervase Ndyanabo and the Police Spokesperson, Emilian Kayima.
Fr Joseph Luzindana, who was the lead organizer of the function, encouraged Christians to always pray for God's blessings and also,to seek his intervention when they get challenges.
Pearl of Africa Hotel, Kampala
Revelers watch fieworks at Pearl of Africa Hotel, Kampala. Photo by Badru Katumba
In Rukungiri, Christians welcomed the year in church
THANK YOU LORD: A show of gratefulness. Photoes by Caleb Bahikaho


In Iganga, MP Mugema joined the prayers
By Moses Bikala

Thousands of Born-again Christians turned up at Iganga municipal council Primary School to attend prayers ushering in the New Year 2019.

Big crowds of Christians danced after witnessing a fireworks display at the school playgrounds.


Prayers were led by pastor Julius Talemwa of bethel healing church located in Bugumba zone Iganga municipal council.

Talemwa urged Christians to utilize the new year to forgive their enemies besides working hard ensure they uplift their house hold incomes.

"We should always seek ways of having a change in our life style as the years go by"he said.
Pastor Julius Talemwa prays for MP Mugema. Photos by Moses Bikala
He appealed to government help contribute financially towards supporting his church project of purchase of a music system.

The Member of Parliament Iganga Municipality, Peter Mugema Panadol, promised to continue supporting all activities of churches in his constituency.