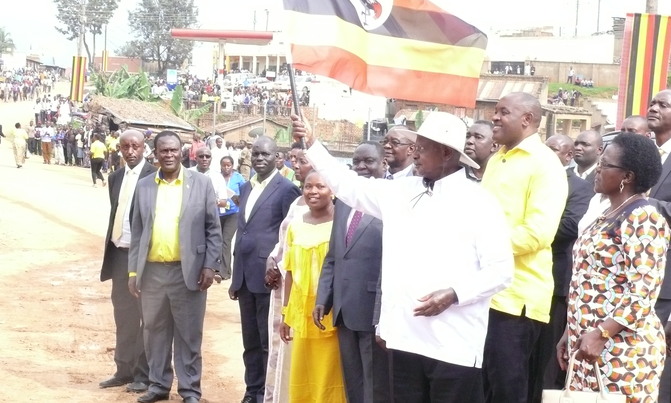 President Yoweri Museveni said the Rukungiri - Kanungu road will be constructed by the government of Uganda, but not African Development Bank as people had been made to believe.
ROAD RUKUNGIRI KANUNGU CONGO

President Yoweri Museveni has named Rujumbura MP Fred Turyamuhweza and Kinkiizi West MP James Kaberuka as sabboteurs of his developmet agenda. Turyamuhweza is a member of the opposition FDC party, while Kaberuka is an Independent.

"I want to thank you for giving me Dr. Cris Baryomunsi and Elizabeth
Karungi. They are helping me very much in implementing development
projects in the country, but Kaberuka and another man in that tent from Rukungiri are doing their own things, sabotaging whatever I am planning to do," he said.
The president said this will commissioning the Rukungiri-Kanungu road at ceremony held at Kanungu playground. The 78.5km road will link Kanungu district to the Democratic Republic of Congo at Ishasha border.
It stretches from Rukungiri through Bwambara, Nyamirama, Kihihi to Ishasha at DRC boarder and the branch from Kihihi town council to Kanungu district headquarters. President Yoweri Museveni said he intended it to pass the road in the rift valley in Bwambara to cut the cost as Enengo would cost a lot of money.
"You know bush war taught me many things I know how to economize. Those who were saying that passing through Enengo in Nyakagyeme would be near Kanungu than where I passed do not know how to calculate," he said. The road will cost sh207b and is slated to be complete in the next 36 months.
President Yoweri Museveni said the road will be constructed by the government of Uganda, but not African Development Bank as people had been made to believe.
Works minister Monic Azubah Ntege had said that ADB was funding the construction of the road together with government of Uganda as it contributes on compensating the affected people.
Ntege said sh29b was raised from the government of Uganda to compensate the affected residents where the road will pass. She said about 49% of the affected people have been paid. She also said the contractors will build two kilometers for each town for free in Rukungiri Municipality, Kihihi town and Kanungu town council.
"My people are wrong ADB lent us money to construct the road we shall pay them back with interest, but they are not the ones constructing it," Museveni said. " When you borrow money it becomes yours since you must pay it back Museveni said, adding that government pays $264m annually on what they borrow from banks.
"When we came, Kampala - Kabale was impassable and we have upgraded it twice, we also upgraded Gulu, Tororo roads and constructed many new roads that include Mityana _Fort Fotral to Busunga border, Arua to Sudan border, Kabale- Kisoro road, Ishaka- Kagamba road and Ntungamo Rukungiri road among the others," he said. He added that most of the roads were constructed with Ugandan money without borrowing.
He added that Kanungu through Rugyeyo, Nyakishenyi, Kisiizi, Kyempene up to Rubare will also be considered very soon. "I told you I know how I can do my things as guerrilla war veteran, that road and even Kanungu to Kambuga will soon be worked on without borrowing any money from any one," he said.
He added that tourism road from Hamurwa in Kabale to Kanyantorogo then to Mpungu up to Bwindi impenetrable park will also be worked on to promote the tourism in the area. "This road should change your lives, you can have small things like fruits to get a lot of money and buy big things," he said.
State Minister for works, Katumba Wamala warned contractors against using underage children in the construction works and also wooing people's wives with money and destroying their families.
"This road should be a blessing to people of Kanungu nobody should regret the coming of the road for one reason or another," he said. James Kaberuka the Kinkiizi west MP said that people of Kanungu has at last reason to smile because they have been crying for the road now they are happy that road is here.
Rujumbura Member of Parliament, Fred Turyamuhweza said his people will be able to connect with Kanungu and DRC. "I want to appeal to people in Rujumbura where road is passing to begin planning how to tap money from the contractors so that they can be able to take a big step in development," he said.