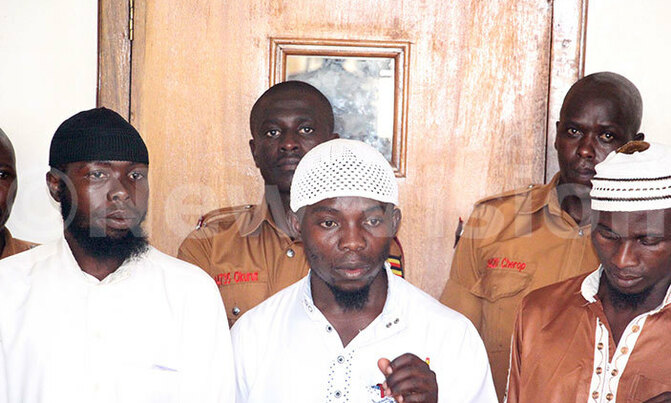 As soon as state prosecutor Janat Kitimbo on Tuesday asked court to send the accused to the High Court to stand trial, defence lawyer Evans Ochieng again vehemently opposed the move saying that the indictment was not proper.
PIC: Murder suspects of Susan Magara appearing before the Buganda Road Court in Kampala on November 19 2018. (Photo by Ivan Kabuye)
CRIME
KAMPALA- The Buganda Road Chief Magistrate's court is stuck with nine people accused of murdering Susan Magara after defence lawyer blocked their committal for the second time.
Susan, 28, a daughter of city businessman John Magara was kidnapped on February 7, 2018 on Kabaka Anjagala road in Mengo as she drove back home in Lungujja, Rubaga division and later killed in cold blood.
As soon as state prosecutor Janat Kitimbo on Tuesday asked court to send the accused to the High Court to stand trial, defence lawyer Evans Ochieng again vehemently opposed the move saying that the indictment was not proper.
Ochieng submitted the group cannot be sent to the High Court on an indictment. They include, Patrick Kashaija alias Pato who is still at large.
"Your worship, the indictment in this format which includes an accused person who is not in court to be committed for trial is not proper. The state has him and we are told he is pending extradition. I still maintain that the indictment in its format including A1 (Pato) is not proper," Ochieng submitted.
Pato is a South African based Ugandan businessman who is also indicted on the charge.
Ochieng submitted that the state should first get Pato off the indictment or have him produced in court before committal of the accused.
In reply, Kitimbo conceded that Pato could not be committed in absentia but asked court to commit his co-accused who were in court.
"The prosecution submits that Pato is not in court for committal and cannot be committed in absentia under the law. However, the rest are in court, prosecution prays that those in court are committed to the High Court for trial," Kitimbo submitted.
Kitimbo submitted that there is no injustice in having the accused in court committed for trial because Pato will be produced in court for the charges to be read out to him.
She submitted that Ochieng's arguments would be proper if it was made at the time of hearing the case in High Court.
However, Ochieng maintained that although he is not against committal of suspects in court, the indictment has to be revised first to have Pato's name removed.
Following the development, the trial Grade One Magistrate Robert Mukanza adjourned the case until Wednesday to make a ruling on the matter.
"I have heard submissions from both the state and defence lawyers. The matter in contention raises a serious question of law. I accordingly adjourn the matter until November 21 because I need to consult various laws such that justice can be done," Mukanza ruled.
Others accused are Hajara Nakandi, Mahad Kasalita, the imam of Usafi mosque in Kisenyi, Yusuf Lubega, Hussein Wasswa, Muzamiru Ssali, Haj Abubaker Kyewolwa, Hassan Kato Miiro, Ismail Bukenya and Musa Buvumbo.
The group was arrested in April this year following a joint security raid on a makeshift mosque in the city suburbs of Kisenyi.
Susan was a cashier at her father's Bwendero Dairy Farm (BDF) along Kabaka Anjagala road in Rubaga division.
Her killing which was followed by similar cases caused tension across the country.
She was held hostage for over 20 days before she was found murdered on February 27, 2018.
Court documents indicate that Susan was murdered on February 27, 2018 and her body was later dumped at Kigo in Wakiso district.
Prosecution alleges that the accused and other still at large on February 7, 2018, kidnapped Susan with intent to procure a ransom but instead murdered her on February 27, 2018.
Susan's killers are said to have contacted her family and demanded $1m dollars (about sh3.65b) before they could release her.
After three weeks, her body was recovered dumped on the Southern Bypass. During her requiem mass, the family revealed that her killers had chopped off her fingers and sent them together with a recording of the incident to the family.
At the time of her murder, Magara's family is said to have secretly finished paying the ransom money believed to be over sh700m to the killers.
Prosecution evidence
According to the indictment seen by New Vision, the accused planned to kidnap rich people and then demand a ransom in order to get out of poverty and develop the Muslim community at Usafi makeshift mosque.
The proposal to kidnap Susan is said to have been made by Yakub Hausi Byensi who is still at large. Byensi allegedly hails from the same village with Susan in Hoima.
The indictment shows that on February 18, 2018, the accused convened a meeting at Usafi Mosque in which they allegedly resolved to cut off Susan's fingers to send a message to her family.
The accused are said to have used the ransom money to procure to procure 35 acres of land in Buikwe valued at sh140m and another acre of land at Bukekete in Luwero district at sh14m.
The rest of the money is said to have been used to buy four brand new vehicles registration number UBB 711R (sh85m), UAV 138G, UAX 962G (26M), UAW 138L (sh35m) and UAQ 470Q (Sh10M).
The indictment also shows that all the accused have since confessed to offence in their extra-judicial statements and explained their individual roles in her murder.
Also related to this story
Court dismisses Magara murder suspect medical examination
How Magara murder suspect was tracked down
Nine charged over Susan Magara murder