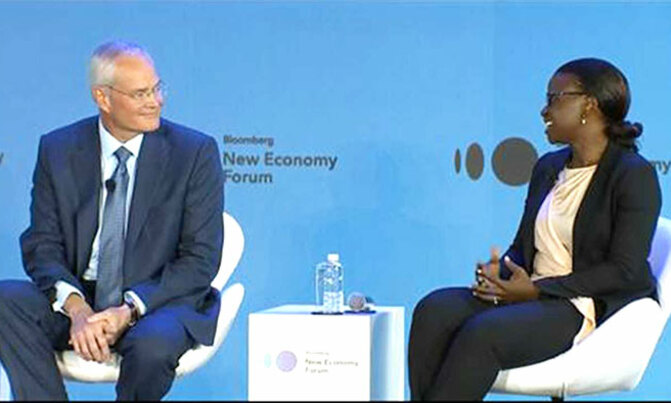 It brought together global leaders such as Henry A. Kissinger, World Bank Executives, Janet Yellen, and former chair of the U.S. Federal Reserve Board of Governors, Bill Gates, among others.
UNOC
Singapore-Josephine Wapakabulo the CEO of Uganda National Oil Company (UNOC) joined Darren W. Woods, Chairman &CEO of ExxonMobil, His Excellency Sultan Al Jaber Minister of State, United Arab Emirates & CEO of Abu Dhabi National Oil Company (ADNOC) and Aliko Dangote, President and Chief Executive, Dangote Industries Limited on a panel to discuss "Energy Challenges in the New Economy."

The discussion which took place on 6, November was part of the ongoing Bloomberg New Economy Forum in Singapore which is a global event that was established in 2018.

It brought together global leaders such as Henry A. Kissinger, World Bank Executives, Janet Yellen, and former chair of the U.S. Federal Reserve Board of Governors, Bill Gates, among others.

In her remarks Wapakabulo commented that while it's hard to live up to the standards set by big oil and gas players that come into Uganda with big budgets in terms of matching employee salaries, UNOC still remains the only oil and gas company in Uganda with 100% Ugandan work force.

Measures to conserve the environment
According to Wapakabulo Uganda signed the Paris accord, an agreement within the United Nations Framework Convention on Climate Change, dealing with greenhouse-gas-emissions mitigation, adaptation, and finance.

She added that Uganda has a zero-gas-flaring policy that will be strictly adhered to during oil and gas production operations. Given its desire to industrialize, cleaner energy options are to be considered.

"We also adhere very strongly to The IFC Performance Standards which help clients manage and improve their environmental and social performance through an outcomes-based approach and provides a solid base from which clients may increase the sustainability of their business operations," she explained.

She further said that Uganda's energy mix constitutes of 90% bio-mass energy, which is not a sustainable form of energy considering that the population is expected to increase from the current 40 million to about 54 million by 2035.

"The plan is to reduce the biomass energy use to sustainable levels and thus this is expected to reduce form the highs of 80-90% to under 50% by 2040.
Currently we are promoting substitution of bio-mass with LPG and solar energy to reduce dependency on bio-mass," she explains.

Introduction of clean and electric mobility
In Africa, the growth of motorcycles is extremely high with an average of over 17% per year for the past ten years, surpassing passenger cars.

Uganda has the highest growth of motorcycles of any country in the world, with the densest fleet in Africa. Currently, the density of motor cycles is at 9units/1000 people, imports at an average of 7,000 units per month.

According to Wapakabulo there is a plan to introduce cleaner and electric mobility, by resorting to greening motor cycles.

"The objective is to have at least 30% of all new motorcycle sales to be electric by 2020. This should be able to achieve a complete switchover from internal combustion to electric cycles by 2030," she said.

She added that greening of the motor cycles is to be used as a stepping stone to further electrification of the transport sector in the country and the region.
The plan for clean mobility for the African continent was launched in May in Nairobi Kenya, with the support of the UN Environment.

She stated that change in the economic structure (industrialization and economic growth being pursued) and the population trends (rural-urban structures), will change the final energy demand structure.

"Energy demand is projected to increase by (5.4X) times, biomass use will reduce from 88% to below 50%. Electricity in the final energy demand is expected to increase from the current 2% to about 10% and motor fuels will however increase from the current 27% to about 35%," she explained.

Therefore, the traditional fuels dominancy will reduce, the energy mix will significantly include Fossil fuels and solar.

Sultan Al Jaber, said that for over 50 years, ADNOC has been able to forge ways to ensure that renewable energy works alongside conventional energy to prevent harming the environment.

However, they have also embraced technology and partnered with other players that are conscious about mitigating climate change.

"ADNOC has established industrial carbon capture, from which the captured carbon dioxide is injected to enhance oil recovery," he stated.

Woods, emphasized the need to give employees global opportunities by letting them make contributions to the progress of the company and recognize them for their contribution.

Dangote stated that they were in discussions with SABIC Industries a global leader in diversified chemicals, to establish an integrated refinery that will be developed to produce petrochemicals and fertilizers along with the traditional oil refinery products like gasoline and diesel.

"The reason for partnering with SABIC is that we have a massive R&D hence creating a need to train personnel," he said.

He added that they are in a process of creating two gas pipelines of about 50Km to carry 30 million barrels of gas.

"The refinery will produce products of Euro 5 spec as opposed to the substandard Euro 3 of most countries and thereby reduce on emissions," he explained.