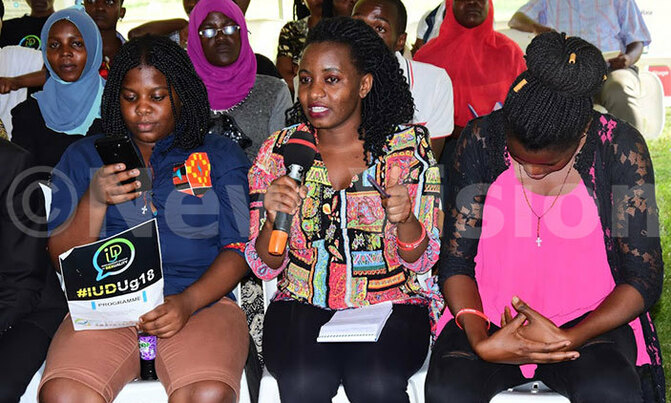 Experts say it's vital to sensitise students and teenagers about sexuality so that they can be in charge of their lives.
Florence Namukasa a third year student at Makerere University recalls facing many challenges from the opposite sex in her first year at University.
"I had many guys ask for love from me an each time I said no, they took it for a yes as men guys think girls no means yes, "said Namukasa.
These guys made my life hard that whenever I went somewhere they followed me that some even threatened to beat me and rape me if I never considered being their lover.
"This made my life hard that I didn't know who to trust and take as a friend. Being my first time at campus, I wondered whether it was a must for me to have a boy lover something that got me in trouble," said Namukasa..
Joyce Mutesi says she dated many boys and in the end got pregnant but she didn't know who was responsible for her pregnancy.
The dialogue brought together students from different universities
"My parents were mad at me and threatened not to pay my tuition. After giving birth, I was given another chance to enrol at campus and study," she added.
These are just a few stories that show the challenges students and teenagers face when they are not informed about sexuality issues. Experts say it's vital to sensitise students and teenagers about sexuality so that they can be in charge of their lives.
According to Charles Owekimeno, the coordinator of national programme alliance, sexuality means many things. It means who you are and how you experience things like intimacy and love among others.
Owekimeno notes that its every ones responsibility to know their sexuality and the decisions they make in line with their sexuality can make them or break them in life.
It's on such grounds that 'She Decides' a project that operates under reproductive health Uganda, organised an interuniversity dialogue on sexuality to discuss issues on sexuality.
The dialogue that took place at Makerere University city square brought together, government ministries, Members of Parliament, university heads, development partners and Civil Society Organisations, university guild councils, media personalities and technical sexuality experts to discuss sexuality education for enhancement of social, economic participation and empowerment of young people in realisation of vision 2040.
Why university students get in trouble over sexuality issues
Yield to peer pressure
"With the current peer pressure especially at university, it's very easy for students especially girls to be lured into sex if they didn't get sensitised about sexuality. This is because peer educators have failed to play their role. This leaves students with no option but with the information they get from fellow peers," said Gilbert Mudenya a student leader at Makerere University.
He said the information peers share amongst them makes it hard for even peer educators to change the mindset of students and teenagers until they get a problem, that's when they realise they are doing things wrongly.
Not empowered to make right choices
Dr Diana Nambatya, said the reason youths today get in trouble is because they are not empowered to make right choices in line with their sexuality.
"Let's sit them down and talk about issues concerning sexuality and the effect of making good or bad choices. In doing this, let's not shy away from the facts about sexuality. We should speak the truth and make them see the world so that they get to understand the risks involved in making bad choices, "Nambatya stressed.
She noted that information on sexuality will help youths decide when to marry, when to have babies and who to marry. Nambatya made the remarks during the inter university dialogue on sexuality held at Makerere university organised by reproductive health Uganda.
Never pay attention to education.
Potential lies in education if they are to make the right choices, yet most of them pay less attention to it. This has caused many to drop out of university without graduating," said Dr Joyce Moriko the minister of state for primary health care.
"Be careful while choosing who you relate with both at the university even while outside the university and more so pay attention to education," she added.
However, as students shared their challenges of being lured into sex by lecturers and fellow students for marks, good clothing and gifts among others, most of the students felt the dialogue had empowered them with tips on dealing with sexuality.
'She Decides' in conjunction with reproductive health Uganda vowed to continue holding awareness campaigns on sexual and reproductive health issues among university students and advocate for an applicable policy on sexuality.
"She Decides" a two year project aims at Improving access to quality, integrated sexual reproductive health services and information to the poor, socially-excluded people, especially women, girls and youth.