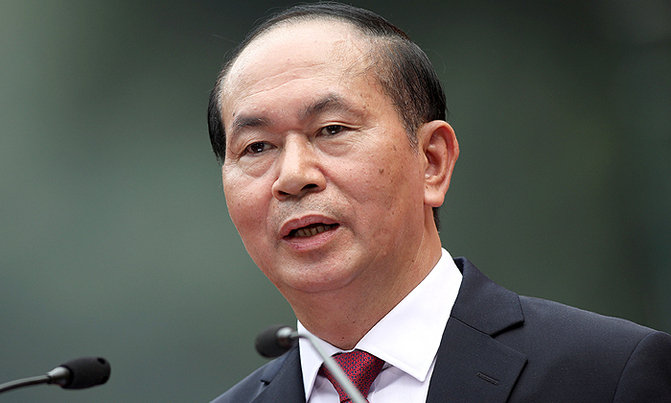 In office as president since April 2016, Tran Dai Quang Quang had a reputation as a tough leader with little tolerance for dissent.
PIC: President Tran Dai Quang speaking during a press conference at the Presidential Palace in Hanoi on November 12, 2017. (AFP)

DEATH

Vietnam's President Tran Dai Quang has died at the age of 61 after a prolonged and serious illness, state media reported Friday.

He passed away from a "serious illness despite devoted treatment by professors and doctors" both in Vietnam and abroad, the official Vietnam News Agency said.

In office as president since April 2016 after more than four decades at the powerful Ministry of Public Security, Quang had a reputation as a tough leader with little tolerance for dissent.

Though he held one of the country's top four positions and was officially the head of state, his role as president was seen as largely ceremonial, greeting visiting leaders and hosting diplomatic events in a bid to boost Vietnam's profile on the world stage.

Quang had appeared thin and pale in public, and was unstable on his feet last week when he hosted a welcoming ceremony for Indonesian President Joko Widodo in Hanoi last week.

His last public appearance was just two days ago, at a meeting with visiting Chinese politicians and foreign dignitaries in Hanoi.
Indonesia President Joko Widodo (left) and his Vietnamese counterpart Tran Dai Quang inspect the guard of honor during arrival ceremony at the Presidential Palace in Hanoi on September 11, 2018
President Tran Dai Quang greets journalists as he waits for the arrival of Russian Foreign Minister Sergei Lavrov at the Presidential Palace on March 23, 2018

Quang, a member of the Politburo, had a reputation as tough and influential in the inner circles of the communist party, though often appeared uncomfortable in the public eye and lacked the charisma of some of his peers in the upper echelons of the party.

In an interview with AFP in 2016 ahead of a visit by the former French leader Francois Hollande, Quang read from a prepared statement and was quickly escorted from the room by staff when a question went off-script.

State media made a somber announcement of his death Friday and celebrated his long commitment to public service.

His time in office was dominated by a simmering conflict with Beijing over the South China Sea, a long-running dispute between the communist neighbours that escalated on several occasions.

Vietnam cancelled at least one oil drilling project in the resource-rich region during Quang's tenure in an apparent bid to quell tensions.

He was the administration's most public face at a series of high-profile events, most notably at an APEC meeting in Danang in November last year where he hosted a bevy of world leaders -- including US President Donald Trump and China's Xi Jinping.

As president, he oversaw a crackdown on dissidents that rights groups have decried as a chokehold on free expression. More than 40 people were jailed this year and some 100 have been behind bars as of April 2018, according to Amnesty International.