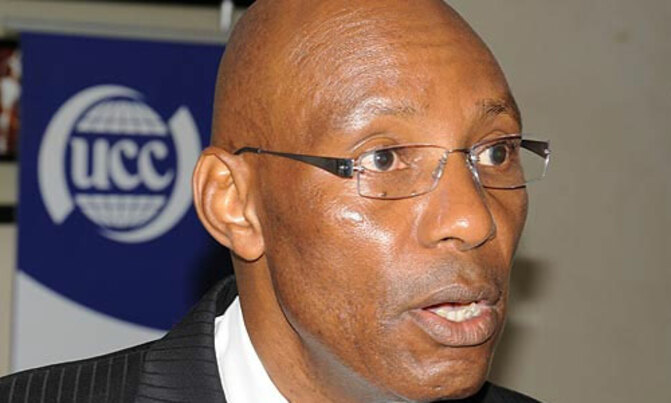 Mobile Money subscribers UCC statistics show that by the end of December last year, there were almost 25 million mobile phone subscribers
UCC executive director Godfrey Mutabazi
If you still have airtime cards, you may not have any use for them after Tuesday July 31. The deadline for selling airtime scratch cards expires on Tuesday. Anybody found selling scratch cards effective tomorrow faces arrest for contravening a Uganda Communications Commission (UCC) directive.
"Effective Wednesday, we do not expect to see anybody selling airtime scratch cards," UCC director of corporate affairs Fred Otunnu said. Otunnu said the phasing out of airtime scratch cards should have been implemented in February, but telecoms asked for more time to clear the stock, which was granted. "The fear that access to airtime will be limited does not arise.
You either use mobile money or contact a vendor who will do it, at no cost," he said. Otunnu said the phase-out was agreed upon in a multi-sectoral engagement involving UCC, the internal affairs ministry, telecom companies and security agencies. He hailed telecom companies for sensitising customers on the new development.
Ban on scratch cards
In March, UCC banned the sale of scratch airtime cards and replaced them with electronic means, such as mobile money and online dealers. Customers can use mobile money, agents' Easy Load, Payway, Mula app, Pebuu, etc.
The move followed a spate of murders and kidnappings that the regulator blamed on unregistered Subscriber Identification Module (SIM) cards and the open sale of airtime. Retailers were given up to today to stop selling or distributing scratch cards.
"We hereby inform the general public that UCC has banned the use of scratch airtime cards with effect from July 31," UCC stated. Airtime retailers were advised to return unused, unsold stock to their distributors for a refund or get compensation.
UCC said the sector is undergoing a technological revolution. Most recently was the analogue to digital migration. ''Technology has presented secure, convenient and traceable means of managing airtime distribution and yet digital airtime payment options have been around for a while and matured,'' UCC said.
Mobile Money subscribers UCC statistics show that by the end of December last year, there were almost 25 million mobile phone subscribers with about 23.4 million (93.6%) having active mobile money accounts. It means 94% of mobile subscribers have the option to self-load airtime using mobile wallets. The remaining 6.2% subscribers without mobile wallets can use operator dealer shops and mobile money agencies which numbered over 160,351.
Telecoms react
Airtel's public relations manager, Suminah Namaganda, said they were prepared for the change. She said they had launched a campaign to encourage their clients to use electronic recharge by giving whoever uses e-recharge a 50% bonus of airtime up to the end of August. MTN public relations officer Val Oketcho said the ongoing 'momo nyabo' promotion where a number of customers have won motorcars and other goodies was intended to create awareness and encourage customers to use e-recharge.
How to load airtime
It is free to deposit money on your mobile money wallet and, as well as free to load airtime for yourself or for another person from your mobile money wallet. To load airtime dial: *144*2# for Africell; *165*2# for MTN; *185*2# for Airtel and follow the prompts or visit the nearest agent for assistance.