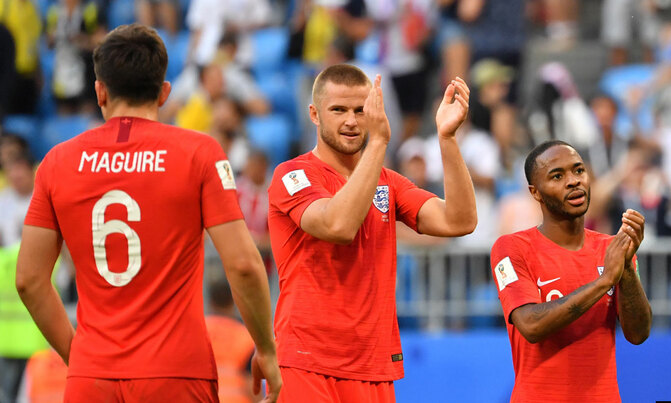 The Three Lions clinch a last-four place in routine fashion
2018 FIFA WORLD CUP - QUARTER-FINALS

Live reporting by Joseph Kizza
@joekizza

________________________


ENGLAND PROGRESS TO SEMI-FINALS

(Sweden 0 England 2)

You could say it was a routine win for an England side that had taken a long while without making it further than the quarter-final stage of the World Cup. That's 24 years to be precise.

Harry Kane, this tournament's top goalscorer so far, did not find the net against a surprisingly leaky Sweden, but Gareth Southgate's side have plenty of options going forward.

Harry Maguire's 30th-minute header and Dele Alli's 59th-minute aerial strike were enough to subdue a side that had proved solid at the back for the most part of this tournament.

Sweden will exit with their heads high, as England look to re-written a new chapter in their footballing history.

In the semi-final, they will play Croatia, who knocked out hosts Russia in the last quarter-final match of this tournament.

FULL-TIME - England advance to the last-four


(Sweden 0 England 2)

A routine victory.

England are through to the semi-finals of the 2018 FIFA World Cup.

For Sweden, it is the next flight back home.

90(+4)min YELLOWCARD - Larsson (Sweden)


(Sweden 0 England 2)

Sebastian Larsson is booked for pulling down Harry Kane in the Sweden half.

Will it matter now?

I doubt.
90 (+1)min SUBSTITUTION - England

(Sweden 0 England 2)

Marcus Rashford is on.
90min FIVE MINUTES OF ADDED TIME

(Sweden 0 England 2)

This should be done and dusted for The Three Lions.

Only if Sweden don't score two goals in the five additional minutes.
89min What a waste!

(Sweden 0 England 2)

Some late drama in Samara?

No.

Ludwig Augustionsson skies his freekick as Sweden get a chance to pull one back late.

England fans will love that. They are dancing all the way to the end.

88min YELLOWCARD - Gudetti (Sweden)


(Sweden 0 England 2)

Substitute John Gudetti almost immediately goes into the book as well.

86min YELLOWCARD - Maguire (England)


(Sweden 0 England 2)

Harry Maguire, the scorer of the opening goal, is the first man to go in referee Bjorn Kuipers's book after tripping John Gudetti from the back.
84min SUBSTITUTION - England

(Sweden 0 England 2)

A second change for England.

Jordan Henderson warmly applauds the crowd as he marches off to be replaced by Eric Dier at the back.

The Three Lions have six minutes to wrap it up.
82min OUCH!

(Sweden 0 England 2)

Today's referee has been easy with his cards. Even when Kieran Trippier is clattered by Ludwig Augustionsson, he does not reach down his pocket.

England will get the freekick, alright, but that won't trouble Olsen.
77min What if . . .

(Sweden 0 England 2)

. . . Sweden find the net now?
75min SUBSTITUTION - England

(Sweden 0 England 2)

And a change it is.

Dele Alli, who netted The Three Lions' second goal, is given a standing ovation as he walks off the pitch to be replaced by a fresh and fired-up Fabian Delph.
74min England change looms

(Sweden 0 England 2)

England are preparing to make their first change of the day.
71min GREAT SAVE! - Pickford (England)

(Sweden 0 England 2)

On any other day, that would have gone in. Marcus Berg, the man that forces England keeper Pickford into that fine save, knows that too.

Sweden are desperately in pursuit of one goal, which could change the dimension of the remaining part of this game.
68min Danger alert for Sweden

(Sweden 0 England 2)

While Sweden have had a share of their good chances after the interval, England remain the stronger side.

One attack, involving Sterling and co, looks dangerous, but it is extinguished.
65min DOUBLE SUBSTITUTION - (Sweden)

(Sweden 0 England 2)

Sweden make two changes.

Ola Toivonen is off and on comes John Gudetti. The other switch has Martin Olsson replace Emil Forsberg.
63min CLOSE! - Claesson (Sweden)

(Sweden 0 England 2)

Sweden are not going down without a fight.

They push forward to pull one back. They have a good opportunity, but Viktor Claesson draws an instinctive close-range save from Jordan Pickford, who has been tremendous for England so far.
61min England lurking - again

(Sweden 0 England 2)

England are looking dangerous now.

They are intent on going for goal number three. Sweden will, however, clear.

59min GOAL! - Dele (England)


(Sweden 0 England 2)

Could this be game over?

Dele Alli heads past Robin Olsen from a deliciously taken cross by Jesse Lingard.

That's England's 11th goal at this tournament in Russia.
56min England's Swedish touch

(Sweden 0 England 1)

Interestingly, the last two occasions that England reached the World Cup quarter-finals (in 2002 and 2006), they were coached by Sven-Goran Eriksson of Sweden.
53min Chance for The Three Lions

(Sweden 0 England 1)

England are back in the game.

After a rather sloshed start for them, they have reawakened with a real chance at goal. Ashley Young delivers a freekick from miles out, which is headed into the box by goalscorer Harry Maguire. It is cleared out, but Maguire nods it back into the danger zone. Sterling goes for the spectacular, but his bicycle kick attempt is no good.
48min Keep it clean, England

(Sweden 0 England 1)

England are the only side left in the tournament yet to keep a clean sheet in their four matches. However, they have never clocked five such games in a row.

Can they hold out the Swedes here in Samara Arena?

In these early stages of the second half, The Blue-Yellow have started the better side.
46min CLOSE! - Berg (Sweden)

(Sweden 0 England 1)

Bright, positive start by Sweden. They are on the attack, which sees a ball swung into the ball. Marcus Berg has to fend off aerial pressure from Ashley Young to nod towards the goal.

Jordan Pickford has to stretch really good to claw that one out.

KICKOFF! - Second half

(Sweden 0 England 1)

Can this second half produce more goals?

England, wearing all red, set the ball in motion.


5:57pm HALF TIME - The stats

(Sweden 0 England 1)

England should have been miles ahead in that half. Raheem Sterling will be guilty of profligacy - sometimes selfish.

The Three Lions ended the opening half with 57% of the ball against Sweden's 43%. They had 3 corners (of which one turned into a goal) while The Blue-Yellow, who had nothing much going forward, had no corner in the entire half.

HALF-TIME - England have edge


(Sweden 0 England 1)

Referee Bjorn Kuipers calls time to this one.

44min CLOSE! - Sterling (England)

(Sweden 0 England 1)

Again, Sterling is in the attack.

He is all alone against the Swedish goalkeeper, who puffs up like a cobra to close him out. Sterling is forced back as teammate Harry Kane dashes right in time to be fed.

But Sterling still goes for goal - only for his effort to be blocked by Andres Granqvist for a corner.
42min Offside! - Sterling (England)

(Sweden 0 England 1)

England are roaring here. Sweden's back is again breached as Raheem Sterling breaks through. The Manchester City man tries to beat goalie Olsen, but misses. Well, he will have been relieved that the offside flag was eventually raised.

Otherwise, that would have been a bad miss!
38min 12 years now

(Sweden 0 England 1)

It is 12 years since England last won a knock-out match at a major tournament (if you don't include penalty shoot-outs). The last time they did it was in a 1-0 victory over Ecuador in 2006 in the last 16.

Harry Maguire's 30th-minute goal separates the two sides as we approch half-time.
36min Olsen beaten

(Sweden 0 England 1)

Ahead of today's game, Robin Olsen had kept three clean sheets, a joint-record for a Swedish goalkeeper at a World Cup along with Ronnie Hellstrom in 1974 and Karl Svensson in 1958.

The Sweden goalkeeper has let one slip past him.

His side must now score to stay in contention for a place in the semi-finals.

33min Sweden second-half kings

(Sweden 0 England 1)

Eleven of Sweden's last 14 goals at the World Cup have been scored in the second half, including five of their six goals at this edition.

They are trailing in the first half here against England.

30min GOAL! - Maguire (England)


(Sweden 0 England 1)

England draw first blood, and what a thumping header by Harry Maguire from a cornerkick!

Pound for pound, Emil Forsberg couldn't deal with the lanky England man mid-air.

The Three Lions have one leg into the semi-finals as we speak, thanks to their 10th goal of tis tournament.
29min England going for it

(Sweden 0 England 0)

Nifty play from Jordan Henderson, who taps the ball to Harry Maguire and the English are on the roll.

Sweden deal with the attack, but at a cost - England's first corner.
26min Three out of four

(Sweden 0 England 0)

The Blue-Yellow have progressed from three of their four previous quarter-finals - in 1938, 1958 and 1994.

The Swedes have won their last two World Cup games. They have only won three successive matches once before.

Can they do it again?
23min England going for it

(Sweden 0 England 0)

Sweden are very organised at the back. England have the sort of players that can pry open that door.

Raheem Sterling is one of them, and the Manchester City forward does some teasing on the edge of the box in an England attack. Once, the ball is struck onto a Swede, sending the English players into a sudden shout for a penalty.

No, it was not a handball.
21min Potent Kane

(Sweden 0 England 0)

By the way, Harry Kane has scored the same number of goals at this World Cup as the entire Sweden side - six.

18min CLOSE! - Kane (England)

(Sweden 0 England 0)

Harry Kane, England's captain, sees goal and goes for it.

But it's a tad too high. That's The Three Lions' first chance of the game.
16min Even history

(Sweden 0 England 0)

Sweden and England are meeting for a third time at a World Cup and for a 25th time overall.

This duel has been rather even, you could say. The 24 times they have previously met, Sweden have won seven, England eight and nine encounters have ended a draw.

At the moment, England are seeing more of the ball. But they haven't really had their way in front of the Swedish goal.
13min CLOSE! - Claesson (Sweden)

(Sweden 0 England 0)

Jordan Pickford is drawn into his first test of this game, as Viktor Claesson lets rip from about 40 yards out.

The effort, though good, whistles over the bar.

Pickford then bursts into a fit of fury- directed towards his defenders.

Needless, if you asked me.
12min A long time ago

(Sweden 0 England 0)

Sweden are in the quarter-finals for the first time since 1994.

England are playing a World Cup quarter-final for a ninth time today. But The Three Lions have only progressed from two of their previous eight - in 1966 and 24 years later in 1990.

09min Dangerous run by Sterling

(Sweden 0 England 0)

Sweden's captain Andres Granqvist has to work really hard to hold off an adventurous Raheem Sterling.

He does, and toes the ball out of play.
07min FREEKICK - Sweden

(Sweden 0 England 0)

The last time these sides met was in a friendly in November 2012. Zlatan Ibrahimovic, who has since hang up his international boots, netted ALL of Sweden's four goals in a 4-2 victory.

Here, The Blue-Yellow get a free-kick. It is far off and will come to nothing once it is swept in.
06min CHANCE! - England

(Sweden 0 England 0)

England winger Ashley Young gets a talking to from Dutch referee Bjorn Kuipers.

Early nerves?

"Gotta calm yourself, young man. I don't want no trouble here!"
04min CHANCE! - England

(Sweden 0 England 0)

Dele Alli steals the ball in the Swedish half, before threading the ball right through the defense in the hope of finding a marauding Harry Kane.

But goalkeeper Robin Olsen quickly advances to snuff out any sort of lingering danger.
02min Early breakthrough?

(Sweden 0 England 0)

England, who I will once in a while refer to as The Three Lions here, are knocking the ball around in these early minutes.

But a sudden loss of possession almost sees Viktor Claesson fed in - but the pass is too heavy for chase.

KICKOFF!


(Sweden 0 England 0)

Twice they have met at the World Cup and twice they have drawn (1-1 in 2002 and 2-2 in 2006). Those were group games. This one today is a quarter-final encounter.

We are underway, ladies and gentlemen!

Sweden get the ball rolling on the Samara turf.

4:53pm LINEUPS - England

(Sweden v England at 5pm)

England, on the other hand, have gone with a 3-5-2 formation.

STARTING XI: Pickford, Walker, Maguire, Stones, Henderson, Lingard, Dele, Trippier, Young, Kane, Sterling
4:50pm LINEUPS - Sweden

(Sweden v England at 5pm)

Sweden are playing with a conservative 4-4-2 formation.

STARTING XI: Olsen, Krafth, Lindelof, Granqvist, Augustinsson, Larsson, Ekdal, Claesson, Forsberg, Berg, Toivonen
4:45pm A semi-finals spot at stake

(Sweden v England at 5pm)

When Sweden take on England in a couple of minutes from, both sides will know they are playing for a big one.

A place in the last-four of the 2018 FIFA World Cup if up for grabs.

France and Belgium are already through - after beating Uruguay (2-0) and Brazil (2-1) respectively on Friday.

Two more places are for taking.

Later tonight, hosts Russia and Croatia will be vying for the last semi-final spot.