The Burundi international nailed a game high 17 points and 11 rebounds to lead his team to a sweet victory.
PIC: Ndikumana (jersey 14) tackles BetWay player during the NBL at the MTN Arena Lugogo. (Credit: Michael Nsubuga)
NATIONAL BASKETBALL LEAGUE
Friday: MTN Arena, Lugogo
Results
Men
UCU Canons 51 City Oilers76
Women
KCCA 62 UCU 69
Saturday : UCU, Mukono
Women
Stormers V Javon Ladies
UCU V Angels
Men
Rhino V KIU
UPDF V Warriors
Our Saviour V JKL
UCU V Ndejje
KAMPALA - City Oiler's basketball player, Landry Ndikumana was the man of the match on Friday evening when his team, Oilers, thumbed desparate UCU Canons 51-76 at the MTN Arena, Lugogo.
The Burundi international nailed a game high 17 points and 11 rebounds to lead his team to a sweet victory after they lost to BetWay Power in the opening game into the new season.
Jimmy Enabu added 13 points while Brian Muramba added 10 and 11 rebounds .
New additions Ivan Muhwezi, Jonathan Egau and Josh Johnson also had blistering performances. However, their contribution is yet to be felt in the team.
Oilers recover losses
The defending Champions came into the game in search for their first win after falling 56-64 against Power in their season game opener.
Oilers archieved their goal with less effort. Starting their contest against the Canons, coach Mandy Juruni's side set the pase of the game. By the end of the first quarter the team was leading 8-21 before taking a 19 point lead at half-time.
By end of the third quarter, Oilers led 35-57 to seal UCU's fate by close of business.
Fadhil Chuma nailed a game high 12 points while Joas Maheta added 9 but it was not enough save their team from losing the game.
This is the second time the Mukono based team is losing a game. The University side forfeited their first campaign against the Pemba Warriors after failing to provide player license to the League's organising comettee in time.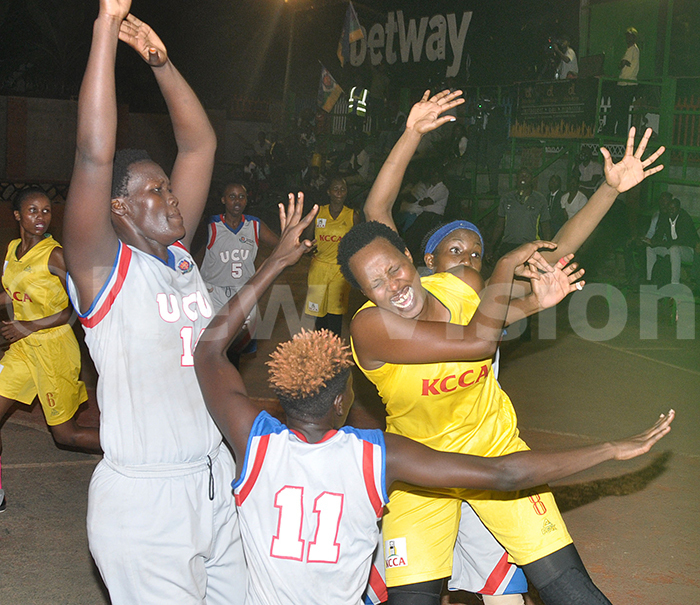 Sarah Ageno (jersey 11) and teammates against KCCA player during the National Basketball League at YMCA. (Credit: Michael Nsubuga)
Meanwhile, the women's category, unlike their male counterparts, the UCU Lady Canons had a perfect start of the new season.
The Lady Canons defeated their top rivals, the KCCA Leopards 69-62. Thanks to Sarah Ageno.
The player nailed a game high 14 points and 10 rebounds. Angela Lokwameri and team captain Vilma Acheing added 11 and 10 rebounds to secure a first win into the 2018 NBL campaigns.
KCCA Leopards' new signing and former UCU player, Judith Ayo Nansobya, led the KCCA side with 16 points, in a losing effort.