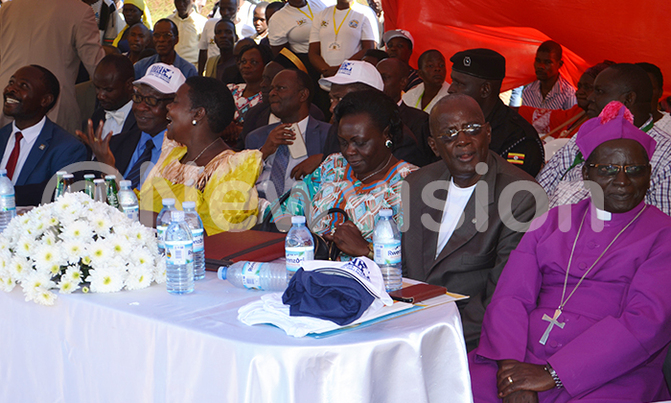 She said the Government distributed mosquito nets to reduce malaria cases in the country
PIC: Opendi (third-right) and other officials during the Malaria Day celebrations in Mpigi distrcit on Wednesday. (Credit: Simon Ssekidde)
MALARIA
MPIGI - The minister for state in charge of general duties, Sarah Opendi, has directed the Police in Mpigi district to arrest and charge whoever will be got misusing mosquito nets.

"The misuse of mosquito nets cannot be tolerated anymore in Uganda. These nets are given free of charge by our development patterns from abroad and we cannot tolerate people who use them for other activities," Opendi said.

She made the remarks while officiating at a ceremony in commemoration of the World Malaria Day that was held in Mpigi at Mpigi Police grounds on Wednesday.

This year's celebrations were held under the theme 'Ready to Beat Malaria' meaning stressing the need to accelerate efforts to end malaria.

She said the Government distributed mosquito nets to help reduce the number of patients going to hospitals because of malaria.

"In Eastern region in parts of Busoga, people use mosquito nets as shelter on their grass-thatched houses, this is 'kisanja hakuna Muchezo' and such acts will not be tolerated," Opendi said.

Peter Clever Mutuluuza, the Mpigi district chairperson, had reported to the minister that most people, especially in rural parts of Mpigi, were using mosquito nets that were distributed by the health ministry to cover their nursery beds.

Mutuluuza revealed that in most parts of the district where he has reached in his monitoring of different programmes, he gets surprised to find mosquito nets used in gardens to cover nursery beds.

At the same function, Opendi revealed that Mpigi health centre IV will soon be elevated to hospital status in the next financial year 2018-2019. She added that the ministry has already allocated funds to help in establishing new structures at the facility.

The minister warned health workers against dispensing drugs without carrying out proper diagnosis, saying this would result in more complications.

Opendi commended village health teams for their efforts to ensure the fight against malaria by mobilising the local people where they operate from.