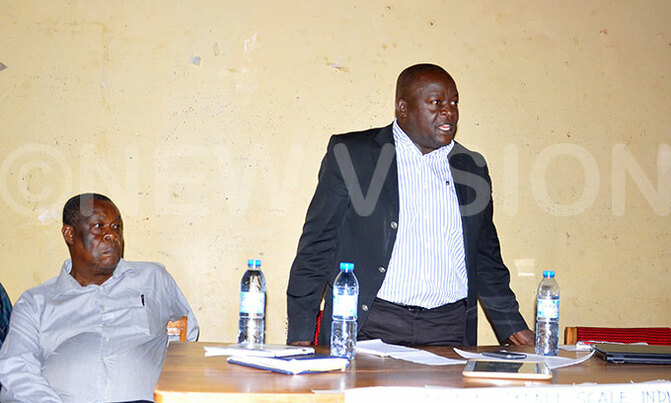 "You should save for investments instead of consumption," Kakooza
The entrepreneurs operating Small and medium-sized enterprises (SMEs) have been advised to develop a culture of savings so as to invest in industrial projects and enhance economic growth.

The advice was given by the Resident District Commissioner(RDC) of Mityana district, Capt. Yahaya Kakooza who said SMEs operators should stop spending their money for consumption alone but save for investments.

"You should save for investments instead of consumption," Kakooza told participants who included business people from different associations and farmers' groups.

The President's representative was speaking during a dialogue aimed at improving business environment and service delivery at Sasa Grounds in Mityana.

The dialogue was organized by Uganda Small Scale Industries Association (USSIA) supported by USAID-UKAID under the governance accountability participation and performance program.

Kakooza called on government to support SMEs to grow as this would expand the revenue base collection.

He urged entrepreneurs to increase production especially those involved in agriculture enterprise.

According to the executive secretary of USSIA, Veronica Namwanje the dialogue was also aimed at promoting private sector participation in local governance.

Namwanje explained that with involvement of local government district officials, the entrepreneurs are able to share challenges hindering SMEs growth and strike way forward for sustainable and meaningful engagement for an improved business environment and service delivery.

She also stressed the need to support Savings and Credit Cooperative Organizations (SACCOs) to enable entrepreneurs borrow money for industrial investment.

The involvement of youth and women in Youth Livelihood programmes, Women Fund and Operation wealth Creation was also emphasized.

However, entrepreneurs operating maize mills raised concern of lack of electricity which has caused some of them to close business as running generators became too expensive.

They called for government intervention to connect electricity in areas far from the town.

They also complained of taxes levied on them by district tax administrators saying sometimes proper assessments are not conducted.