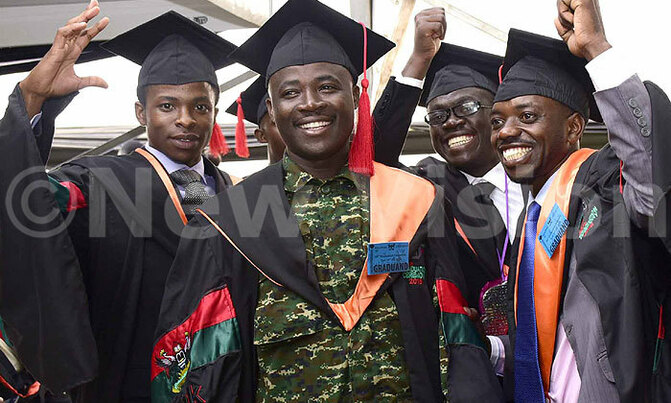 On the first day, vice-chancellor Prof. Barnabas Nawangwe directed the colleges to issue academic transcripts to graduating students.
PIC: Bachelor of Science in Education graduates celebrate their achievement on the opening day of Makerere's 68th graduation ceremony on Tuesday. (Credit: Maria Wamala)

EDUCATION

KAMPALA - It is day two of Makerere University's 68th graduation ceremony being held at the main campus in Kampala.

The event, which kicked off on Tuesday, is running until Friday.

Today (Wednesday), Makerere will graduate students of four colleges:

- College of Business and Management Sciences (CoBAMS)
- College of Computing and Information Sciences (CoCIS)
- College of Health Sciences (CHS)
- College of Veterinary Medicine, Animal Resources and Bio-security (CoVAB)

At the opening session, Prof. Barnabas Nawangwe, Makerere University's vice-chancellor, ordered various registrars of the 10 colleges to issue academic transcripts to the graduating students, saying on the graduation day, a student must go back home with his or her transcript.

He was addressing the first batch of the 14,085 students lined up for the week-long graduation.

Nawangwe said the reason Makerere has decided to decentralise academic transcript issuance is to "ease life after campus" for students, who urgently need to pursue various opportunities ahead of them.
The other new development that Nawangwe (pictured middle) singled out for immediate implementation is the policy of centralised exam marking to curb the vice of late submission of students' results.
Each college will have a room where scripts are kept and lecturers will be required to mark in that room and leave all scripts there. This will help reduce delays in submission of results and also minimise loss of student scripts," the vice-chancellor said.
Out of the 14,085 graduates, 71 will receive PhDs, 980 master's degrees, 96 postgraduate diplomas, 133 undergraduate diplomas and 12, 691 bachelor's degrees. Of these, 50.6% are female.
In his remarks, Prof. Ezra Suruma, the chancellor of Makerere University, urged the varsity staff and students to continue conducting cutting-edge research that focuses on a beneficial impact on citizens.
Suruma also warned graduates against complacency, saying: "Every African has a duty to fight slavery, colonialism and neocolonialism. We must create enough employment at home so that our people do not have to face humiliation and death in foreign countries.'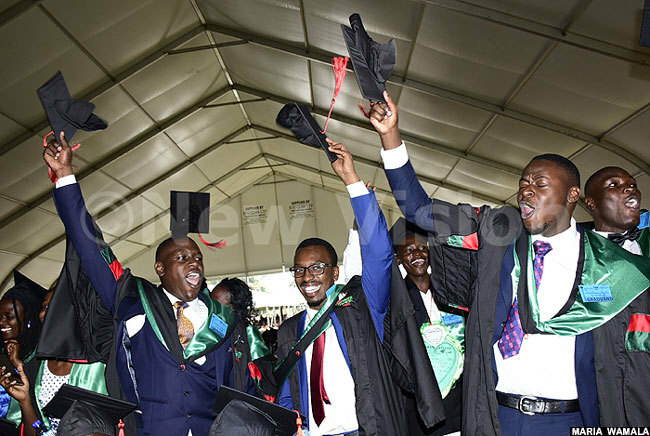 Meanwhile, outlining the plan of the university in the next years, Nawangwe, who was presiding over his first graduation as vice-chancellor, said Makerere's management has embarked on plans to improve conditions in halls of residence and building of new modern hostels on campus.
Nawangwe urged graduates to create jobs rather than seeking them.
"You are going out to the world which expects a lot from you. We have trained you to be critical thinkers and not mere job seekers. With a degree from one of the best universities in the world, there is no reason for not succeeding," he said.
You can find the full graduation list HERE.
THE 68TH GRADUATION CEREMONY PROGRAMME

TUESDAY, JANUARY 16
• College of Agricultural and Environmental Sciences (CAES)
• College of Education and External Studies (CEES)
• College of Natural Sciences (CoNAS)

WEDNESDAY JANUARY 17
• College of Business and Management Sciences (CoBAMS)
• College of Computing and Information Sciences (CoCIS)
• College of Health Sciences (CHS)
• College of Veterinary Medicine, Animal Resources and Bio-security (CoVAB)

THURSDAY JANUARY 18
• Makerere University Business School (MUBS)

FRIDAY, JANUARY 19
• College of Engineering, Design, Art and Technology (CEDAT)
• College of Humanities and Social Sciences (CHUSS)
• School of Law (LAW)