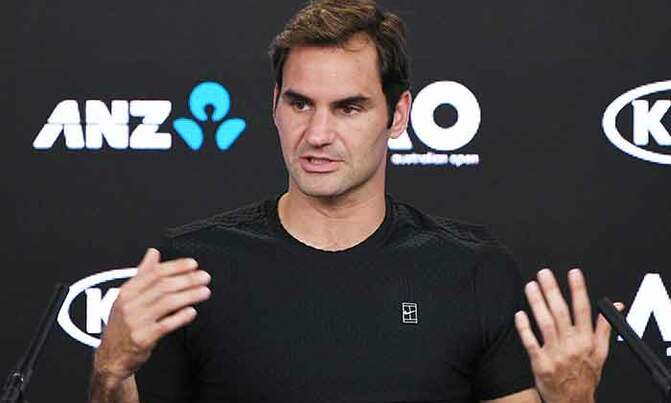 Federer, who had an incredible 2017 after returning from injury, opens his title defence against Slovenia's 51st ranked Aljaz Bedene on Tuesday.
PIC: Switzerland's Roger Federer during a press conference ahead of the Australian Open tennis tournament in Melbourne on Sunday. (Credit: AFP)

SPORTS | TENNIS
AUSTRALIA - Defending champion Roger Federer says rivals Rafael Nadal and Novak Djokovic should be seen as leading contenders for the Australian Open as he is too old to be considered favourite.

The 36-year-old is bidding for a record 20th Grand Slam title and is in form and fit, unlike the Spaniard and the Serb who enter the tournament under injury clouds.

But the father-of-four said at his age and in his 19th Australian Open, he liked to play down his chances.

"With age, I feel like I play down my chances just because I do not think a 36-year-old should be a favourite of a tournament, it should not be the case," the world number two said on Sunday.

"That is why I see things more relaxed, you know, at a later stage of my career.

"I feel like maybe somebody like a Rafa, with the year that he' has had, and Novak with the six titles he has had here, even if it is unknown how he is feeling, they could very well be the favourites, too."

But Federer added: "At the end of the day, it is all just talk beforehand. The draws are always tough."

Federer, who had an incredible 2017 after returning from injury, winning not only a fifth Australian Open but a record eighth Wimbledon, opens his title defence against Slovenia's 51st ranked Aljaz Bedene on Tuesday.

He faces a potential quarter-final against David Goffin if he stays on track to become only the fourth player ever to win 20 or more Slams - joining Margaret Court, Serena Williams and Steffi Graf.

Federer's preparations have been good.

He comes into the tournament on the back of winning the mixed teams Hopman Cup in Perth with fellow Swiss Belinda Bencic, before his entourage touched down in Melbourne for the usual commitments that come with being a legend of the game.

"Busy. A lot going on with media, sponsors, practice. It was intense," he said when asked if everything was going as planned.

But he added that he had been able to get in as much practice as he wanted.

"It has been constantly playing, practice how hopefully I can play during the Australian Open.

"The Hopman Cup went very well," he added. "I think it is going to be helpful again for me this year because the court plays exactly the same in Perth and here in Melbourne.
The 36-year-old can return to number one if he wins the title
Tournament of the year

Against all expectations as he returned from injury, Federer blitzed the field to win at Melbourne Park last year, crowned champion again after an epic final against Nadal.

It kickstarted a memorable 2017, and he said it was his highlight of the year.

"It was the tournament of the year for me, no doubt about it. All the five-setters, as well," he said.

"Having no expectations was so nice after all these years always having expectations, like now this year again."

Federer, who can return to world number one if he wins the title and Nadal loses prior to the quarter-finals, said he was not getting ahead of himself, and was only taking it one step at a time.

"My focus needs to be early because I have my own problems, you know, to get through my section of the draw, my game," he said.

"That is my focus, not the other players really further down the line."

He added that it was "just great to be back".

"I am so, so happy about the Australian Open, it is time again. I can't believe it has been a year, but it is ok. I will make the most of it."
AFP