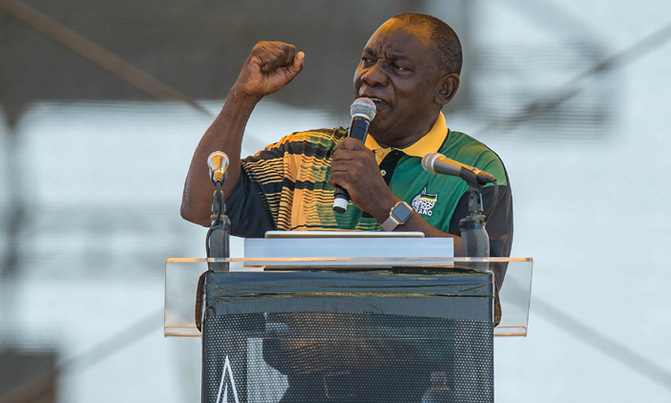 This week Zuma announced a probe into top-level corruption after parliament said it would deliberate on procedures for impeachment.
African National Congress President Cyril Ramaphosa addresses supporters at the ANC's 106th anniversary celebrations at Absa Stadium in East London, South Africa on January 13, 2018. AFP PHOTO
The new head of South Africa's ruling ANC, Cyril Ramaphosa, pledged Saturday to "restore the credibility" of the party after a spate of corruption scandals involving President Jacob Zuma.

Zuma was replaced as party chief by his deputy Ramaphosa in December, with the new leader facing an uphill task to recover public support for Africa's oldest liberation movement ahead of elections in 2019.

"We must restore the integrity and credibility of the ANC," said Ramaphosa, 65, in his first major address to the party at a rally for the African National Congress's 106th anniversary celebrations.

"The movement has become deeply divided through factionalism, patronage, corruption and competition for resources," said the former trade unionist who led talks to end white-minority rule in the early 1990s and then became a multi-millionaire businessman before returning to politics.

"We are going to confront corruption," he said, pledging that "the investigation and prosecution of those responsible (for manipulating the state machinery for their own ends) will be given top priority."

The graft-tainted Zuma also attended the meeting and drew whistles from the crowd.

Party divisions deepen
This week Zuma announced a probe into top-level corruption after parliament said it would deliberate on procedures for impeachment.

Corruption allegations have tarnished Zuma's image and eroded his support base, with the beleaguered leader facing growing pressure to resign before his presidential term ends next year.

Back in 2014, Zuma failed to abide by recommendations made by the anti-corruption watchdog over $15 million (12.5 million euros) of taxpayer-funded refurbishments at his home in the eastern KwaZulu-Natal province.

He eventually reimbursed the equivalent of around $500,000 for non-security-related work at his homestead, a sum set by the treasury.

In 2016, a damning report questioned Zuma's dealings with the Guptas, a wealthy family of Indian origin, who were allegedly granted influence over his cabinet appointments.

Last month, Zuma suffered another blow when Ramaphosa, who campaigned on an anti-corruption ticket, was elected ANC president beating the president's former wife Nkosazana Dlamini-Zuma.

The hotly contested race revealed deeps divisions in a party already weakened by the graft scandals and continued economic decline.

With Zuma still the president but Ramaphosa leading the ANC, the two factions within the party could still be set for a damaging clash, with many in the party calling on Zuma to step down so Ramaphosa can become president.

The pressure comes after the ANC, which has ruled since 1994 when Nelson Mandela won the first multi-racial election, recorded its worst-ever results in 2016 local polls.