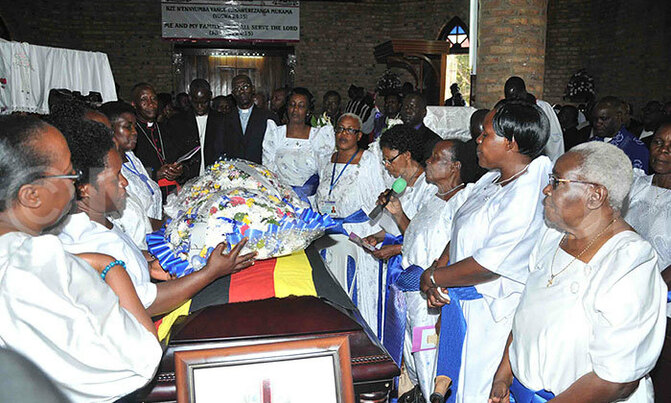 Pictures from St Phillip and Andrew's Cathedral in Mukono at the funeral service of the late former archbishop, Livingstone Mpalnayi Nkoyoyo.
LIVINGSTONE MPALANYI NKOYOYO: 1938 - 2018

MUKONO - Former archbishop of Uganda Livingstone Mpalanyi Ssentongo's body is lying in state at his home in Nakabago ahead of burial on Tuesday at the Anglican Shrine of the Uganda Martyrs, Namugongo.

Earlier on Tuesday, a funeral service was held at St Phillip and Andrew's Cathedral in Mukono, attended by thousands of believers of different denominations.

Nkoyoyo succumbed to cancer of the throat at Kampala Hospital on Friday last week.

Vision Group photojournalists Drake Ssentongo and Henry Nsubuga captured Tuesday's proceedings . . .
The body of the fallen former archbishop was led to the cathedral mid-Tuesday morning.
Meanwhile, Archbishop Stanley Ntagali was welcomed at the church by Mukono's Bishop William Ssebaggala ahead of the funeral service.
Members of the clergy mingling . . .
Once at the church, the Uganda Police and A-Plus Funeral Management staff wheeled the casket carrying Nkoyoyo's remains onto a red carpet leading into the cathedral.
On the other end, two files of the clergy waited to received Nkoyoyo's body.
It was a warm morning in Mukono.
Inside and outside, St Phillip and Andrew's Cathedral was filled with mourners, who sang hymns as the casket was wheeled into the church.
The widow, Ruth Nkoyoyo, who is part of the Mothers Union, made her way into the church.
Several groups laid wreaths on Nkoyoyo's casket.
The Leader of Opposition in Parliament, Winfred Kiiza, laying a wreath on Nkoyoyo's Uganda flag-draped coffin.
Mukono Municipality MP Betty Nambooze wore a black gomesi
Former Ugandan vice-president Prof. Specioza Wandira Kazibwe (second-right) attended the funeral service.
Some mourners followed proceedings from outside.
Dozens of wreaths were brought.
ALSO RELATED TO THIS

Glowing tributes paid to Nkoyoyo in Mukono funeral

Nkoyoyo left a plan for his grave