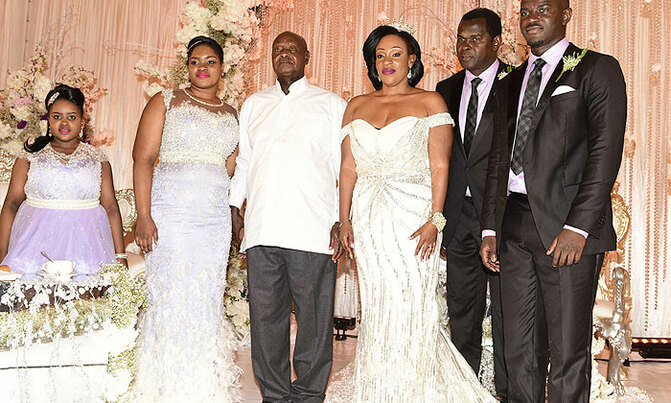 Kayanja draws deafening applause when he says if he was to marry all over again, he would still marry his beloved Jessica.
PIC: President Yoweri Museveni (third-left) with Pastor Robert Kayanja (third-right) and wife Jessica (second-right), flanked by the couple's children at the reception dinner in Ggaba on Saturday. (Credit: PPU)

MARRIAGE | RELATIONSHIP

KAMPALA - Pastor Robert Kayanja and his wife Jessica renewed their marriage vows as they celebrated 25 years of marriage on Saturday.

The glamorous ceremony, punctuated by an air of pomp and attended by several high-profile guests, took place at Rubaga Miracle Centre in Kampala.

After renewing their vows, where they promised to stick together in thick and thin, in sickness and in good health, the couple went on to treat guests to a dinner at their palatial home in Kawuku, Ggaba.

President Yoweri Museveni attended the colourful function.

The renewal of vows was conducted by Pastor Robb Thompson from the US.
Kayanja drew deafening applause when he said if he was to marry all over again, he would still marry his beloved Jessica. The couple's children were their best man and matrons.

Some of the high profile guests that graced occasion included businessman Charles Mbiire, Pastor Wilson Bugembe, Dorcus Akol of Uganda Revenue Authority (URA), Allen Kagina of Uganda National Roads Authority (UNRA) and Kampala Capital City Authority (KCCA) executive director Jennifer Musisi.

Works minister Monica Azuba, Grace Akullo of CIID, former minister Miria Matembe and the Bamugemereires also attended.

Guests were treated to entertainement by musicians including Winnie Nwagi, Rema, Silver Kyagulanyi, with comediam Patrick Idringi aka Salvado the MC of the night.


THE CEREMONY IN PICTURES

AT THE CHURCH . . .

One by one, the guests made their way to Rubaga Miracle Centre to witness a significant ceremony in the lives of senior pastor Robert Kayanja and his wife Jessica. One of the guests was Paastor Wilson Bugembe of Light the World Ministries, who took off time to greet other guests.
It did not take long for the church to fill up. And right there before everyone, looking sharp and majestic, stood Pastor Kayanja and his son Robert Kayanja Jr, who was the best man, as the ceremony began.
Pastor Kayanja was waiting for none other than his beloved wife Jessica, who looked stunning in her wedding gown. She was walked down the aisle to meet her prince by her father Prof. Frederick Ssempebwa.
Jessica, wearing a tiara, was finally led to her husband, who appeared delighted to reach for her hand and as if tell her with his eyes: 'You will be mine forever, darling'.
The couple's daughters Kirstein and Kristiana, who sparkled in their purple gowns, were the matrons.
Giant screens inside and outside the church relayed the proceedings. Former ethics minister Miria Matembe was among the high-profile guests, and how stunning she looked in her blue outfit! She was flanked by her husband, Nehemiah.
Pastor Robb Thompson, the founder of the International College of Excellence, conducted the couple's renewal of marriage vows.
Just like they had done 25 years before, the Kayanjas vowed to stay together in matrimonial union.
It was a day of prayer, songs and praise, as well as blessings.
Twenty-five years in marriage is such achievement. Many couples have allowed the cracks in their marriages to split them. Some have walked out of marriage because of disagreements. But not the Kayanjas. They have stuck in there for this long, and have vowed to stay together for life. Guests congratulated them for their milestone achieved.
'Thank you for leading by example', Pastor Bugembe seemed to be telling his counterpart, Pastor Kayanja.
Pastor Kayanja is the younger brother of the current Anglican Archbishop of York, John Sentamu.
Pastor Thompson prayed for and blessed the Kayanja family.
After renewing their vows, the Kayanjas walked out of the church hand-in-hand, with Jessica holding a lovely bouquet.
It was time for some family photoshoot . . . and the Kayanjas offered the scores of photographers at the event plenty of time to click away.
Oh, the love that filled the air! Heartwarming :)
AT THE DINNER . . .
The Kayanjas hosted guests at their home in Ggaba, Kampala. Drinks and conversation flowed generously.
New Vision's news editor Hellen Mukiibi (right) also attended the reception.
Guests were treated to a dollop of music by various entertainers
It was a warm colourful evening
Anytime is selfie time!
Justice Catherine Bamugemereire (left) and Matembe mingling during dinner.
UNRA boss Allen Kagina (left) looked stunning in blue
The main attraction of the day, the Kayanjas, who had just renewed their wedding vows, walked in for the reception hand-in-hand.
It was an evening of pomp and flair.
The main guest, President Yoweri Museveni, was ushered in for the reception.
The President posed for a photo with the family of Kayanja
Dinner time was well-received by the guests. There was plenty to colour and fill one's plate with.
And then dance time to crown a memorable day!