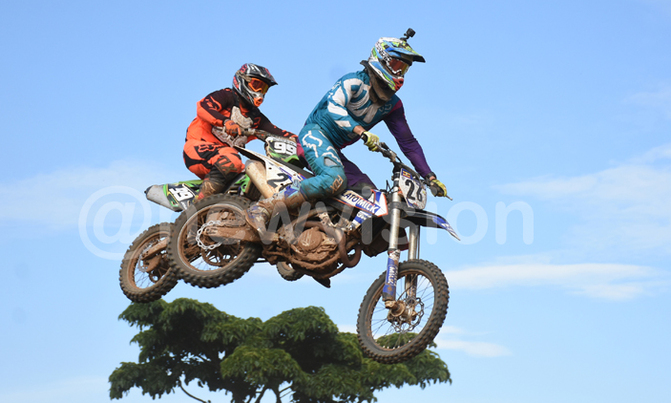 The riders completed their calendar with all six events successfully held.
Motocross had a successful year despite an average performance at FIM Africa Championship in Botswana, but Uganda retained the FIM Central Africa Championship in Kenya.

The riders completed their calendar with all six events successfully held.

Maxime Van Pee won the MX1 open class championship, Isabella Blick retained her 50cc seniors' class championship with her brother, William Blick Jr. winning the 50cc Pee Wee class.

Ben Nsumba emerged national champion in the 85cc class, beating defending champion Fortune Ssentamu, while Malcom Lubega was the top actor in the 65cc while Alestair Blick emerged the 125cc winner.

Achievements

Despite the challenges in the sport, the team finished fifth overall in the FIM Africa Championship in Botswana and won the FIM Central Africa Championship.

Uganda's team edged competitors from Kenya and Tanzania to lift the crown.

There was an increase in not only the number of riders, but also the quality of display as exhibited by the number of podiums finishes Uganda got in the FIM Central Africa Championship.
Uganda's dominance in the East Africa region in the 50cc Pee Wee, 50cc seniors, 65cc and 85cc is a sign of a bright future for the sport.

Kenya had dominated the events for a decade but Uganda has now taken charge.

The upgrading of the two available racing tracks (Garuga and Busiika) to international standard is an achievement by the Federation of Motorsport Clubs of Uganda (FMU) was a commendable move.

The racks have helped riders improve on their speed and standard of performance.

Traditional sponsors supportive

The sport has maintained the traditional sponsors, including Mountain Dew, Shell Advance Oil and Cherish Hospital.

"Maintaining the old sponsors and adding new ones to meet our budget is our focus and we appeal to all corporate bodies out there to join the sport," FMU deputy vice president in charge of motocross Patrick Van Pee said.

"We thank all corporate bodies and individuals that have supported us this year and appeal to them to stay with us so that we promote the talent of these young riders together," Van Pee added.

Challenges

Funding of motocross remains one of the key challenges. Motocross is an expensive sport and requires financial muscle.

Without sponsorship, the federation would find it very difficult to take full teams to international competitions.

Competing without a full team, has affected the performance of riders in past events.
Some good riders are left behind because their parents cannot afford the cost of air tickets and transporting bikes to the competition venues.

Management committee

There has been no national team management to offer guidance to riders. Parents are coaches and managers of their children involved in the sport.

There is nothing like a national team apart from a name Uganda.

This affects the performance of Uganda as a team because parents register their children in any class.

"We lack a technical department to handle the national team, guide parents, allocate a rider a class to compete in so as to score points," FMU secretary Joseph Mwangala said.

Lack of facilities

The two tracks at Garuga and Busiika are far from Kampala and it becomes hard for riders to get enough training time.

Way forward

The number of events have increased from six to eight and this will help riders to train regularly, which will improve their performance during competitions.

"Other countries have several opportunities to train which we do not have. So increasing the events from six to eight will force riders to train and improve on their standard," Van Pee explained.

Training programmes

There are plans to organise stakeholders training for capacity building of riders, parents, marshals and medical teams.

"I think so many parents just love the sport that is why they invest in it but do not know the rules and regulations. So we intend to organise training sessions to build their capacity in management," Van Pee stated.

"We also intend to bring more trainers to handle our riders. This is how we shall improve the standard of competition even at the international level. But all these measures require resources and we appeal to the Government and companies to support us," he added.

Management committee

Mwangala said they will initiate the formation of a national team committee.

The committee will be in charge of all matters to do with the national team, like naming teams for international events.

"What we want is to have a technical committee well versed with rules of the sport at all levels, handling national teams and leave parents to offer support to the riders," Mwangala said.

Funding is key

Patrick Van Pee said they intend to start lobbying for sponsors early enough.

Enduro Championship Organised by the Enduro Club of Uganda, it had a successful year.

The club organised the three national championships in Lake Mburo national park, Kalangala and in Zion Estate in Wakiso.

Enduro Club of Uganda official Kisitu Mayanja said the year has been a success.

"We held activities on the calendar and entered into a partnership with the federation n Rwanda," Mayanja stated.

"Next year we shall have a joint championship with Rwanda by holding two events in each country."

Enduro Club Uganda chairman Tendo Mutale thanked all the corporate bodies that supported their activities this year.

The bodies include World Wide Movers and Lato Milk.

Enduro Club Uganda held the Buggy, Enduro and 4x4 Championships.

Buggy Championship

Ali Omar Yasser emerged the 2017 Buggy champion after winning all the three events.

4x4 Cars Championship

Julius Mugambwa emerged the overall champion in the event beating defending champion John Bosco Nkumbi. The new winner emerged after Nkumbi had won the crown three times in a row.

Mugambwa and navigator Sean Oseku won the Nsimbe Estate event, Jomayi race and finished second in the Kalangala competition.

He sealed the championship in Zion Estate race.