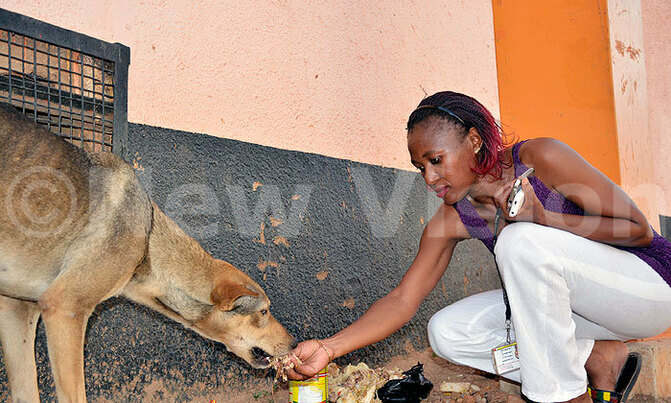 He wagged his tail and moved closer to his new friend.
PIC: Journalist Petride Mudoola feeding Peace, the lonely dog she found near her work place. (Credit: Gerald Tenywa)

One man's meat is another man's poison, so goes the saying. It means that things liked or enjoyed by one person may be distasteful to another. This has been repeated on Third Street, Industrial Area in Kampala, where Petride Mudoola, a New Vision journalist, went out of her way to care for an abandoned dog.

"I looked at his eyes and he appeared peaceful," she said.

"When I went close to him, he did not attack or bark at me. I immediately fell pity for the dog, and right there, before my eyes, a bond was formed."

Mudoola named the lonely canine Peace, and when she called him by the name, the dog wagged his tail, as if instinctively aware of his new-found name.

He wagged his tail and moved closer to his new friend.

However, the dog appeared hungry. Another thing that disturbed Mudoola even further was that the renowned best friend of man was not only homeless, but also with wounds on his weather-beaten body.
Mudoola carrying food to feed the dog. (Credit: Gerald Tenywa)

Here, she feeds Peace, the abandoned dog, just outside the Vision Group head office in Kampala. (Credit: Gerald Tenywa)


Mudoola said the dog appeared to be guarding a pair of shoes, with the owner nowhere.

Had the owner died? Had they deceived the dog that they would return by leaving behind shoes? The scene puzzled Mudoola as much as it did motivate her to do something for the lonnely canine.

She bought food for Peace and she was instantly drawn to the delight. It was clear the dog had gone days without a decent meal.

However, Mudoola could not provide Peace a home, as she already has many dogs under her care.

"I am appealing to any good Samaritan to give Peace a home," she said.