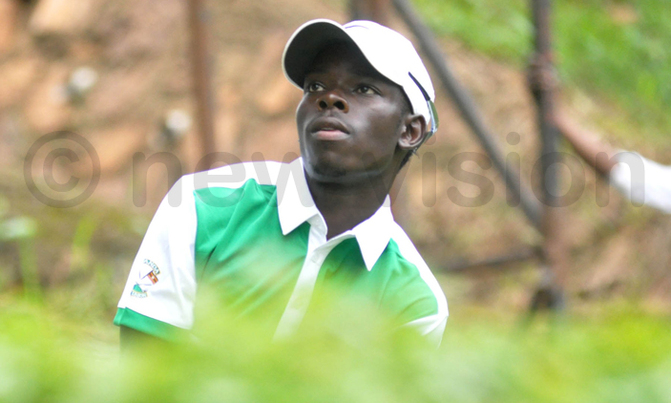 The top ten will have a slot in the US Open (professional circuit) as invited amateurs
Uganda national golf team players Ronald Otile and Daniel Baguma are set to compete in the US amateur open qualifying rounds in July at Monroe Golf Club in North Carolina after securing visas for the trip.
Uganda Golf Union Development and Competition representative Oscar Semawere belives this is a huge step in the development of Ugandan golf as no Ugandan amateur golfer has ever competed at that level.
"It goes a long way in uplifting the status of Ugandan golf. If they make the cut they will be playing the U.S Am' Open(August, in California) and if they make the top ten then they will play in the US AM' open in August and from there we will be able to watch them on TV as they play with the world's best," Semawere noted.
The top ten will have a slot in the US Open (professional circuit) as invited amateurs.
He said the Uganda Golf Union will buy them the air tickets with US based golf enthusiast Mac Stevenson, who is trying to connect Uganda golfers to US colleges footing the other bills.
They will be joined by Titus Okwong who is already in the US, pursuing a Bachelor's Degree in Business Administration at the Livingstone College.
"Great feeling, I'm excited," Baguma said when contacted from his base in South Africa.
Last year, Uganda professional golfer Willy Kitata's dream of becoming the first Ugandan to play at the US Golf Open hit a dead end when he failed to make the cut, at qualifiers to the event, played at the Wanderers Club, Wellington in Florida.
Kitata who was making his debut at such a stage returned 78 gross, to miss out on qualification by eight strokes in the one-round qualifier.
Meanwhile Minister for Karamoja John Byabagambi has donated 6 golf bags (full kit) worth sh8m to Bishop Stuart University in Mbarara as part of his plans to see the game develop in the country.
He wants the students and staff to start playing the game so that there are more golfers in western Uganda and Uganda as a whole.