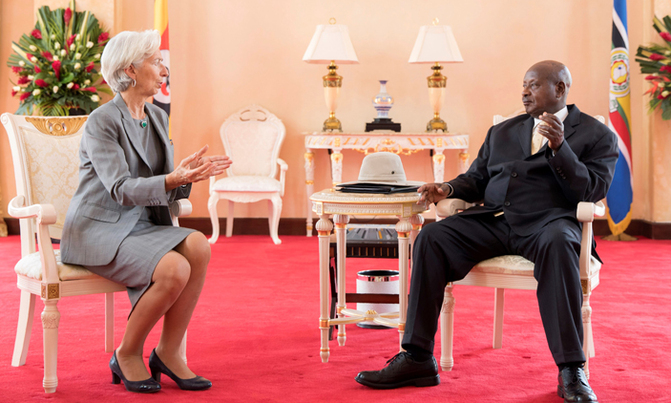 The President applauded the IMF for playing a key advisory role to government since 1987
Government is set to roll out a vigorous irrigation program to stem a prolonged drought that has savaged parts of the country, President Yoweri Museveni has said. While addressing a joint press conference with Christine Lagarde, Managing Director of the International Monetary Fund (IMF) at statehouse Entebbe, the President also warned against destroying wetlands.
This comes two days after the New Vision ran a detailed feature titled: 'Uganda's lakes recede as the dry hits hard' on the 26th January 2017. At least 1.3 million people around Uganda are said to be in need food aid after a prolonged dry spell that has hit the country's cattle corridors, drained water bodies and led to a spike in food prices.
The President attributed the prolonged dry spell to the erosion of water catchment areas and wetlands which contribute 40% of Uganda's rain. He also noted that La Niña, a condition brought by cooler than average sea surface temperatures, in the Indian and Pacific Oceans which supply 60% of Uganda's rain resulted in less evaporation and less rain.
"The drought is a good problem, it has woken us up, and we are going to launch vigorous irrigation programs. One local contributor has been the attack on the wetlands which contribute to 40% of our rain. So by attacking the wetlands, your parents are contributing to the drought," Museveni said.
"We are now having a double pronged movement, on the one hand to restore the wetlands but on the other hand to launch irrigation programs. We are going to shift from rain fed agriculture to irrigation," he added.
The President noted that Lake Victoria's water level went up almost by 3 meters between the rainy season in the months of March to June 2016 to 12.67 meters and despite the dry spell, was still high at just slightly below 12 meters. Lake Victoria's highest level was recorded in 1964 when the water level hit 13.46 meters.
Infrastructure, trade and economic growth
Reacting to questions from the media about the recent suspension of new World Bank loans due to poor absorption, the President warned that ineffective government bureaucrats will be sacked and replaced by more efficient individuals.
"The low absorption capacity is because some of your people are asleep that's why they talk of absorption capacity. How can you talk of the problem of absorption capacity when there is need on the ground?" the President asked rhetorically.
He applauded the IMF for playing a key advisory role to government since 1987; when government liberalized the economy, opening up for private sector investment, when the country was battling high inflation, and when the country was sourcing for funding of infrastructure projects.
When asked about protectionist trade policies in the US and the UK, President Museveni noted that prosperity is created when there are more buyers for country's products.
He noted that Uganda maize and milk industries are sustained by regional demand, pointing out that of the 4 million metric tons of maize produced, only 1 million are locally consumed; while 800 million liters of milk are consumed locally out of 2.2 billion litres produced annually.
"Those who are pushing isolationist positions - I don't know how they will sustain the prosperity of their people. We already have the common market of East Africa and we are pushing for the integration of the common market of Africa because it is a must.
We are also negotiating with others to grant us access to their market such as the European Union, China, and the United States because this is a stimulus for prosperity," the President explained.
When asked about Uganda's mounting national debt and funding for ambitious infrastructure projects, Lagarde pointed out that there is need for good balance between cheap concessional and expensive non-concessional loans.
"Macro-economic stability is a key factor that is looked at by the investors and by the lenders. There is abundance of financing available that will go towards bankable projects that are implemented in a rigorous, disciplined and well integrated fashion," Lagarde said.
She noted that before 2012 global trade growth was twice as fast as Gross Domestic Product (GDP), however, structural forces have come to bare on global trade and economic growth.
"What has certainly worked is regionalization in a way that is envisaged in the East African Community (EAC). And if it is supported by coordinated and well integrated infrastructure projects it allows for a large of market of say 150 million people," Lagarde said.
"This creates more opportunities for each of those economies and it is a major factor of attractiveness for investors due to the size of the market, the ability of the market to purchase their products, and by infrastructure both in terms of transportation and power and soft power which is a combination of business friendly environment and predictable taxation which is fair," she added.
Lagarde noted that the regional integration presents opportunities for growth and additional income. However, she cautioned that the EAC regional integration should be hastened slowly.
Borrowing lessons from the European Union, she noted that there is need to move one step at a time, and make sure that the steps taken in regional integration are solid, sustainable and will take the region to the next level to consolidate a union that will be sustainable for the long run.
Largarde noted there is need to balance infrastructure development with social needs such as health and education. She also urged the President to support programs that enable women to access finance, and to end violence against women so as to realize a higher contribution of women to the economy.