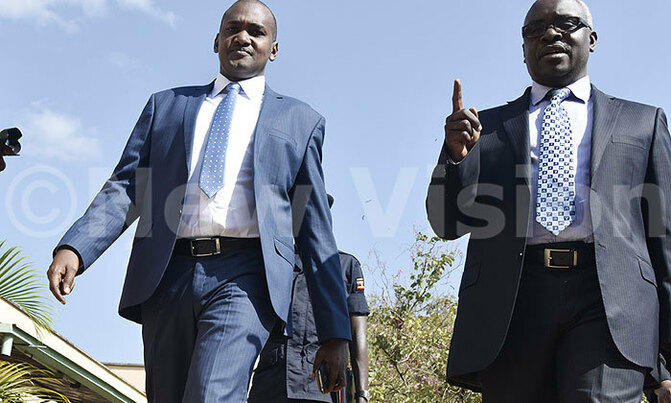 Tumwebaze hails Vision Group for proving that government enterprises can work successfully and profitably.
PIC: Vision Group CEO Robert Kabushenga (right) took ICT minister Frank Tumwebaze (left) around the company premises on Tuesday. (Credit: Roderick Ahimbazwe)

KAMPALA - The Minister of Information, Communication and Technology (ICT) Frank Tumwebaze has asked media houses to act professionally amid pressure to remain relevant and leading in the market.

Meeting Vision Group senior editors after a tour of the company on Tuesday, Tumwebaze said it is important that media houses act professionally especially when covering controversial stories.

"How do we balance the desire to act professionally and still remain leading in the market? As journalists, you need to investigate and seek comments from all sides," he said.

He applauded the company for proving that government enterprises can work successfully and profitably.

"I think New Vision is one example of an institution where government has a stake and you are able to say 'we are leaders in this business'. There is totally a wrong theory that government institutions cannot make profits."
Minister Tumwebaze had a meeting with Vision Group editors at the head office in Kampala

Currently government owns 53% shares while private individuals and institutions have a 43% stake in the company.

Vision Group chief executive officer Robert Kabushenga informed the minister that the company is self-sustaining and has been making profits for the last 29 of the 30 years of its existence.

"We have been profitable for the last 29 years. Financially, we are self-sustaining. We keep our own accounts, we pay our staff at every 28th day of the month," he said.

On his part, Vision Group editor-in-chief Barbara Kaija told the meeting that New Vision runs on a cardinal principle of truth, fairness and balance.

She insisted that caution is taken on all stories and that even where mistakes are made, they are rectified at the earliest opportunity.

"The 1987 Act that set up New Vision allowed us to be critical of government to expose the things that are going wrong without being antagonistic. If there's something wrong and we have all the evidence to prove it, we go ahead and expose it.

"We request that we continue running like that," she said.
Chief executive Kabushenga, alongside editor-in-chief Barbara Kaija, showed the visiting minister around the company
It was a moment of delight as Kabushenga introduced a visibly humbled Bukedde FM presenter Godfrey Kigobero to Minister Tumwebaze

Meanwhile, New Vision editor John Kakande and Sunday Vision and Saturday Vision (weekend papers) editor Felix Osike appealed to government to address the issue of access to information.

Osike complained that although the Access to Information Act was passed, it is still a big challenge for government officials to release information to journalists.

Kakande requested the minister to encourage his colleagues and other government officials to interact freely with the media and always be available.

"The more you open up to the media the better. But sometimes we need information urgently and someone says we shall get back to you and takes hours, which gets editors into a dilemma of either being scooped or delayed," he said.