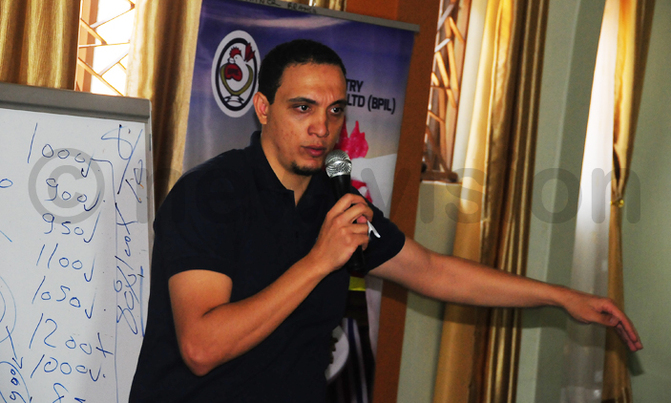 The facilitators emphasized on management of chicks before and after arrival
Over 200 poultry farmers in Wakiso district have undergone training in poultry farm management skills.
The farmers mainly from Wakiso district attended the one day training at Nansana hall, supported and conducted by Biyizinka Poultry International.
The facilitators led by Dr. Magdy Abdeerahman emphasized on management of chicks before and after arrival. He said that poultry farmers should not re-use old litter from previous flock, use new litter.
"Heat the brooder 24 hours before the chicks arrive and make sure there is uniform distribution of the drinkers and feeders the brooding area," Magdy said.
He advised them to avoid transporting the chicks in the trunks of cars in order to enable them receive better ventilation.
"The longer the chicks remain in the boxes, the greater the degree of potential dehydration. This may result in early mortality and reduced growth" he stressed.
Farmers also learnt there's need to provide 24 hours light of between two to three days and thereafter 23 hours of light for the first seven days in order to encourage feeding and water intake.
He said that poultry attendants should gently walk through the chicken houses about four times a day to make birds familiar with humans.
Four diets (starter, grower, developer, and pre-lay) during the growing period are very adequate for growing layer chicken. Each diet should be supplemented with minerals and vitamins and fed on chicken till appropriate weight.
Grace Batte head of marketing Biyinzika, said that they have been conducting training with farmers especially those dealing in poultry.
"We equip our poultry farmers with skills in management of the poultry industry. We have been conducting this training for the past three years and now most of them have acquired practical skills in poultry management," she said.
She said that the training will be conducted countrywide and is geared at helping poultry farmers improve of their skills in poultry management.
Robert Kasozi a poultry breeder from Nansana said that the training has enabled him realize the vitality of ventilation in poultry management.
"I have realized the importance of keeping light in the early days when I have brought the chicks to the brooder," he said.
Asia Mayanja a poultry farmer from Kyengera said that she has been in the poultry industry for the past 10 years.
"I have learnt that I am supposed to measure my chicks every week at least in order to ascertain their growth," she said.