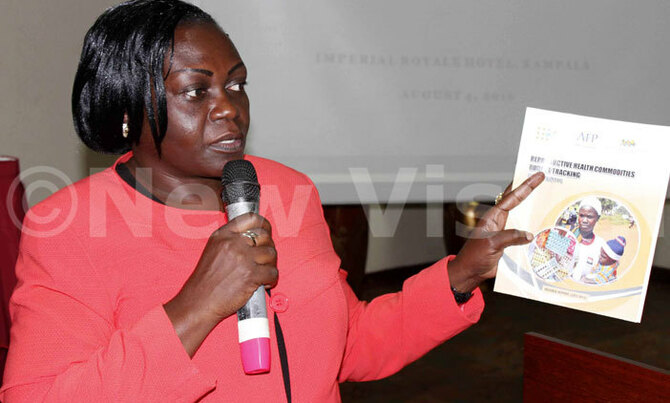 Opendi stressed that family planning would translate into smaller child cohorts and greatly reduce the dependency ratio.
Uganda could save up to $126.7m (about sh400b), if it improved access to modern contraceptives by 2020, the state minister for health in charge of general duties, Sarah Opendi has said.

Opendi noted that a lot of money was being spent on maternal health complications arising out of the high fertility rate in Uganda.

According the 2014 housing and population census, the current fertility rate is 5.8 children per woman. Statistics show that 34% of women have an unmet need for family planning.

The minister argued that in order to improve the quality of the population, Uganda needed to, among others, focus on creating a more sustainable age structure.

Opendi stressed that family planning would translate into smaller child cohorts and greatly reduce the dependency ratio.

"No country has ever attained economic development without tackling its fertility rate," she stated.

"Family planning commodities must be available at all times when a woman visits the health facility. It is also important to note that the facility must have a qualified health worker to administer the method. The high unmet need of 34% is evidence that the women out there are producing children at a time when they either want to limit or space child births," Opendi added.

She announced that the ministry had developed a five-year strategy dubbed 'Uganda Costed Implementation Plan (CIP)' for family planning.

"The goal of the CIP is to reduce the unmet need for family planning to 10% (from 34%) and to increase the modern contraceptive prevalence rate among married women to 50% (from 26%) by 2020," said Opendi.

"If the CIP is fully implemented, we shall by 2020 be able to avert 4,067,731 unintended pregnancies, 579,550 abortions, 6,072 maternal deaths, 118,700 child deaths, 554,977 unsafe abortions and be able to save USD 126.7 million on maternal and infant health care costs," Opendi added.

Her observations come at a time when the maternal mortality rate is too high in Uganda, with 5,900 Ugandan women estimated to be dying every year in labour wards. Hemorrhage or excessive bleeding accounts for 25% of maternal deaths in Uganda. Other causes include complicated labour, abortion, hypertension, sepsis and other indirect causes.

Opendi was speaking at a breakfast meeting to disseminate a report on budget tracking of reproductive health commodities.

The meeting, organized by the Partners in Population and Development (PPD), aimed at evaluating how the sh8bn budget allocation to family planning for the financial year 2015/16 was expended.

Donor contributions to contraceptive procurement were also analysed. The PPD report released during the function showed that half of the budget was used for the procurement of contraceptives and specifically the Depo Provera(contraceptive injection), while the other half was for the procurement of maternal delivery kits.

However, the report revealed that with the exception of emergence pills that were distributed to health centers in the month of August 2015, National Medical Stores(NMS) had not distributed any contraceptive pills and IUDs between July 2015 and June 2016.

"The main reason for non-distribution of pills and IUDs is because NMS is stoked out of these commodities," the report said.

It, however, stated that there was currently an overstock of Depo Provera (contraceptive injection) at the NMS warehouse and health facility level.

Speaking to New Vision on phone, NMS' spokesperson said the choice of procuring Depo Provera (injection) was based on previous evidence that had shown the injections as a preferred method of contraception.

According to the 2011 demographic health survey, the injectables (94 and 91 percent), were the most known and preferred method of contraception.

"In the previous years, we have had contraceptive pills expiring in the stores. Women do not like them because their husbands harass them when they know they are taking the pills. We are mindful of the fact that government resources are limited so we go for the most preferred choice," Kimosho explained.

During the July 2012 London summit on Family Planning, President Yoweri Museveni pledged to increase the budget of contraceptives from US$3.3 million to US $5million over the next five years.

An additional US$5million would be secured from development partners. Museveni also reiterated government's plan to strengthen NMS as well as improve the distribution of family planning methods to the public and private health delivery units.

"We therefore need to take stock of how far Uganda has gone in achieving the financial commitments and what else needs to be done," said Patrick Mugirwa, the PPD programme manager.