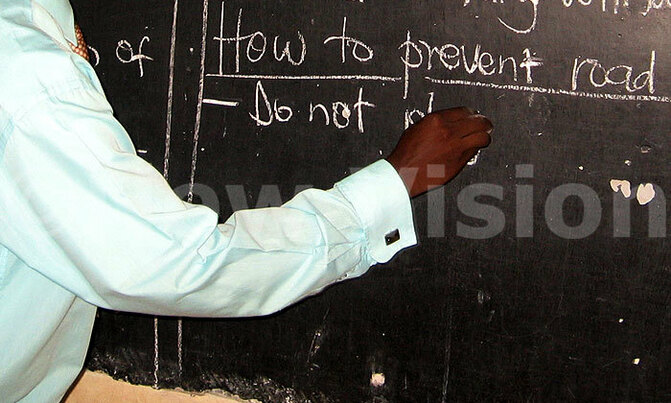 "Laxity must stop in both in teaching and accountability otherwise you will be sacked on phone."
Nebbi resident district commissioner, Bessie Ajilong has warned teachers who dodge classes that they will be fired on phone.

She said late-coming and absenteeism are no longer tolerated by the education ministry.

"Laxity must stop," warned the RDC.

Ajilong made the remarks while closing a two-day athletics competition for secondary schools in Nebbi district.

The competition under the theme 'Fitness an Asset for All' was held at Nebbi Secondary School playground.

As many as 16 secondary schools participated in the sporting event, with Uringi Secondary School and Erussi School emerging the winner in the boys and girls categories, respectively.

Ajilong pointed at lack of accountability and absenteeism among teachers as one of the causes of poor performance in schools in the district.

She also warned head teachers against collecting money for sport activities from students but end up not participating in the events.

"The ministry of education has changed. Laxity must stop in both in teaching and accountability otherwise you will be sacked on phone."

Earlier on Richard Cekecan, the chairperson of Nebbi District Secondary Sports Association raised concern about failure of schools to participate in sporting activities.

He said many school heads defied paying the amount agreed by the schools to participate in the competition.

And that has come at a cost. Cekecan said that because most of the schools have not paid, they are unable to take Angal Secondary School to participate in the national netball event next Monday.

The team needs sh3.5m to cater for their transport and accommodation.

Denis Nyango, the Nebbi district Acting Sport officer, also re-echoed Ajilong's concern, adding that schools should not sit on the talent of their students.

She said sport is part of education, and any school which violates the rights of students to participate risk its license being revoked.

Meanwhile, Geoffrey Anecho, the Nebbi district vice chairperson, admitted that Nebbi is grappling with the problem of education.

He, however, observed that the blame game will not offer solutions but instead collective responsibility from all stakeholders will.