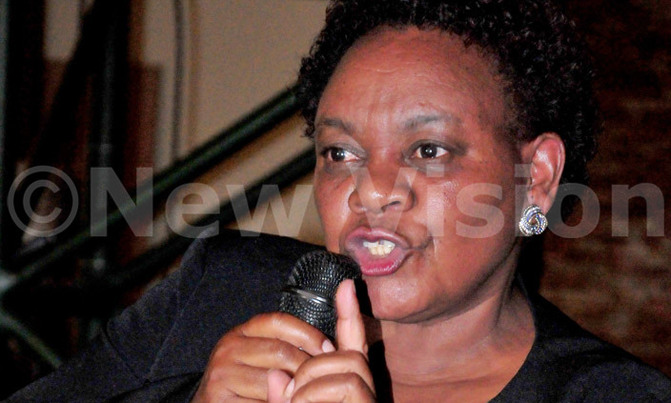 The convention was organized by Action for Development (ACFODE) supported by Konrad Adenauer Stiftung(KAS).
Women activists and politicians have advised President Yoweri Museveni to appoint a woman in the remaining position of the third premier.

Speaking during the National Women Political Convention under the theme; "Strengthening Women's Influence for Gender Responsiveness and Political Accountability" at Golf Course Hotel in Kampala on Thursday, women said that they need more representation at all levels, right from political parties' leadership.

The convention was organized by Action for Development (ACFODE) supported by Konrad Adenauer Stiftung(KAS).

The executive director ACFODE, Regina Bafaki said out of the 80 cabinet appointments, women only take 33% of the positions which is unfair.

"We need more cabinet posts and other key positions in government. We also need more Ambassadors, Permanent Secretaries, Undersecretaries and key positions in political parties which can influence policies," she noted.

She urged women representatives in Parliament, to promote gender and political accountability, to change the conditions of women country wide.

Bafaki said they want an increase in the number of women in all political leadership positions at all levels to at least 50% in line with the African Charter on Democracy, Elections and Governance. She said this should also apply to leadership in political parties.

Statics as of July 2014 from different political parties show that Forum for Democratic Change party had 34 women out of 147 positions at the National Executive Committee (NEC), Democratic Party (8) out of 44 positions, People People's Progressive Party (8) out of 15, NRM (7) out of 22, JEEMA and UPC shared 4 women out of 19 respectively.

However, within public service, of the 112 Chief Administrative Officers in Uganda, only 17 are women, out of 29 permanent secretaries only six are women, and of 29 undersecretaries 14 are women, while out of 126 Ambassadors and their deputies only 63 are women.

Ritah Aciro, the executive director, Uganda Women's Network (UWONET) noted that if it was not affirmative action, women representation would only be 19 MPs for the directly elected seats.

She said there is need for political parties and other stakeholder to build capacity among women to stand for directly elected seats against men in 2021.

She highlighted traditions, culture, customs, financial constraints, lack of confidence, poor access information among women and mindset of people towards women among others, as some of the challenges women face in participating in the electoral process.

Mathias Kamp, the KAS country representative said the performance of women has improved compared in the 2011 where only 11 were elected on directly elected seats, saying much still needs to be done to support them for more positions in 2021.

Kamp said having more women in key positions helps them influence government policies.

Florence Muhwezi, the chairperson ACFODE, said there is need to engage all stakeholders to strategise, to rescue and empower women, right from the grassroots if they are to overcome this challenge.

Margaret Rwabushaija, the workers MP said more women should be given a chance to serve because they are better administrators than men.

Angelline Osegge, the Soroti district Woman MP said there are many qualified women who can take up key positions to serve the country.

"I believe we have many competitive women in Uganda. There is nothing wrong if they are given opportunity," she noted.

They called for more funding to the health sector by 15% of the national budget, addressing of women land rights, promotion of quality education among girls with increased enrollment and boasting women economic empowerment through cooperatives, create market for agriculture products and controls prices.

They called for the review of the compensation strategy in the Albertine Oil region from individuals to families.

"Many women and their children are suffering today because compensation was made to individuals," Bafaki noted.