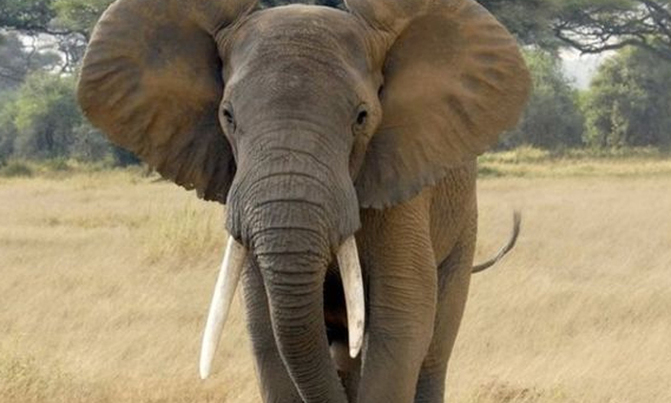 The new rule, which takes effect July 6, "substantially limits" imports, exports and sales of ivory across state lines, the US Fish and Wildlife Service (FWS) said.
US authorities on Thursday announced a near-total ban on the trade of African elephant ivory, finalizing a years-long push to fight the poaching of the threatened animals.

Conservation groups welcomed the move by the United States, the world's second-largest consumer of illegal ivory after China, even though it comes with notable exemptions including for antiques.

The new rule, which takes effect July 6, "substantially limits" imports, exports and sales of ivory across state lines, the US Fish and Wildlife Service (FWS) said.

"Today's bold action underscores the United States' leadership and commitment to ending the scourge of elephant poaching and the tragic impact it's having on wild populations," Secretary of the Interior Sally Jewell said.

More than 35,000 elephants are slaughtered each year on the African continent from an approximate population of more than 450,000 in the wild.

The Wildlife Conservation Society (WCS) hailed the US move to protect the species as historic.

"The USA is boldly saying to ivory poachers: You are officially out of business," WCS president and chief executive Cristian Samper -- a member of an Obama task force on wildlife trafficking -- said in a statement.

Patrick Bergin, chief executive of the US-based African Wildlife Foundation (AWF), also praised the new rule.

"Strong laws around wildlife crime and strong enforcement of those laws are absolutely critical in deterring traffickers and poachers," he told AFP.

"All countries -- and especially those that are source, transit or destination countries for illegal wildlife products -- have a role to play in tidying their own house."

- Hunter trophies -

But the new restriction comes with a series of exemptions, including for documented antiques which are at least 100 years old and meet several additional requirements.

Other exempt items include certain musical instruments, furniture and firearms that contain less than 200 grams of ivory.

Under the new rules, the import of sport-hunted trophies -- parts of an animal brought back to the United States for display -- will be allowed within a limit of two per hunter per year.

People will also be allowed to keep lawfully acquired ivory and are not banned from donating, giving away or receiving ivory as a gift provided "there is no exchange for other goods or services involved," the FWS said.

"Limited exceptions" to the elephant ivory ban will also apply to items that are part of a traveling exhibition or "are part of a household move or inheritance when specific criteria are met" as well as "ivory for law enforcement or genuine scientific purposes."

- 'Blood ivory' -

The new measures help fulfill President Barack Obama's 2013 executive order on combating wildlife trafficking.

Once illegal ivory enters the market, it becomes virtually impossible to distinguish from legal ivory, the FWS said, and demand for elephant ivory "is so great that it grossly outstrips the legal supply and creates a void in the marketplace that ivory traffickers are eager to fill."

The ivory trade is mostly fueled by demand in Asia and the Middle East, where elephant tusks and rhino horns are used in traditional medicine and for ornaments.

China has also pledged to ban the ivory trade domestically, and in March widened a ban on ivory imports.

"We hope other nations will act quickly and decisively to stop the flow of blood ivory by implementing similar regulations, which are crucial to ensuring our grandchildren and their children know these iconic species," Jewell said.