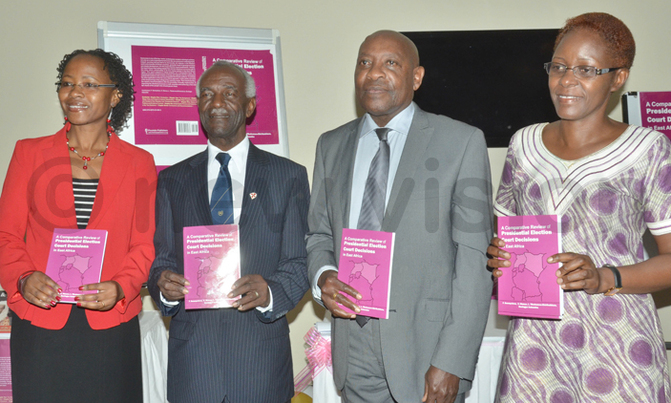 Its aimed at evaluating the implication of petitions on the future of elections
A book on the comparative review of presidential election court decisions in East Africa has been launched.
The 168-page book authored by Prof. Fredrick Edward Ssempebwa, the former chairperson, Commission of Inquiry (Constitutional Review) was launched at Protea Hotel in Kampala by former Principal Judge of the High Court of Uganda, Justice James Ogoola.
Other co-authors of the book include; Supreme Court Judge Lillian Tibatemwa Ekirikubiriza, Dr. Busingye Kabumba and Tanzania's retired Court of Appeal Judge Eusebia Munuo.
While launching the book, Ogoola called it an intellectual publication written with passion with invaluable legal and sharp intellect, rich with information touching issues pertaining legal matters in this country written not for only today's generation but for generations to come.
"This book is a guide and manual reference point to all research in East Africa pertaining recent electoral experiences of Uganda and Kenya. Reading this book enriches one's knowledge on the historical electoral processes not only in Uganda but other East African countries," he said.
It was launched during the stakeholder's symposium focused on the recent presidential election petition decision and its implications.
The meeting was organized by Kituo Cha Katiba: Eastern Africa Centre for Constitutional Development (KcK) in partnership with Freedom House Uganda.
It aimed at evaluating the presidential election petition decision with specific focus on its implications on the future of elections in Uganda.
Ssempebwa said the book was written to inform the public and all stakeholders on how courts have handled three presidential petitions (2001, 2006 and 2016) in Uganda and 2013 Kenyan presidential election petition.
The Kenya presidential election petition of 2013 was aimed at declaring the Kenya presidential election 2013 invalid and was filed at Supreme Court of Kenya.
"The book documents issues pertaining to the election petitions of 2001, 2006 and 2016 in Uganda and the 2013 petition in Kenya. More emphasis is on Uganda and Kenya because the two countries have had serious presidential petitions in East Africa," he says.
"Other than informing the public, it also provides comparative ways in how supreme courts of Kenya and Uganda handled the petitions" he added.
In the 2001 and 2006 petitions, the petitioner was the same, Forum for Democratic Change (FDC) president, Dr. Kiiza Besigye against President Museveni. Besigye lost both petitions following a judgment in favour of Museveni.
In the just concluded 2016 petition filed by independent presidential candidate Amama Mbabazi, all the nine justices of the Supreme Court led by Bart Katureebe unanimously agreed to dismiss the petition.
Other crucial issues discussed at the event include; urgent need for electoral reforms, national dialogue involving all Ugandans including women, youth, religious and political leaders, and cultural leaders to discuss key issues that affect Ugandans.