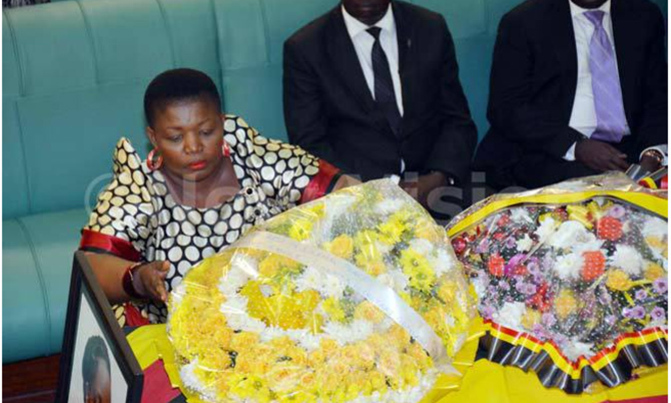 She became a household name when she staged a spirited fight for prices of agricultural commodities and was nicknamed "beyi y'abilime"
On behalf of the leader of opposition Wafula Oguttu, Busiro East MP Medard Lubega Ssegona and DP President Norbert Mao expressed concern over circumstances under which Namaganda died, alleging that the accident could have been staged managed.
Mao said, "Death occurs every day but Susan, whose life has been esteemed by peers should help us contemplate on our own mortality and I think DP should unite for her. I am at pains to believe it's by coincidence that she has experienced three head-on collision accidents in a space of just three years but as DP we pledge to get to the bottom of the matter."

Mbidde said of his departed wife: "I never raised a single finger on that broken woman despite marriage shortfalls, so I can't let anyone harm her for any reason. Those police accounts don't add up but even if it means losing my life for Suzan to find justice, I am ready because after all, I will have gone to meet her."

Ggovernment chief whip Ruth Nankabirwa called on fellow politicians to emulate Namaganda as a hardworking woman and urged parliament to use her death to enact penalties for traffic crimes as a means to curb motor accidents.

Namaganda who was traveling with three others will be laid to rest today at 2:00pm in Kawoko-Bugana Bukomansimbi.

Notable among those at the requiem mass was former Kampala district NRM chairman Francis Babu, former DP leaders Paul Kawanga Ssemogerere and Ssebana Kizito, Kampala lord mayor Erias Lukwago and UPC outgoing president Olara Otunnu.