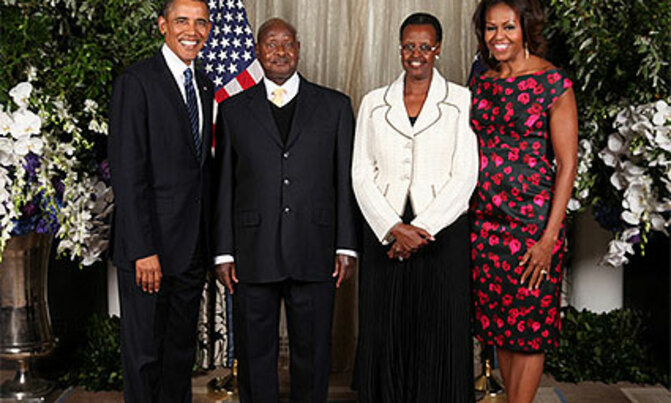 President Museveni is among other African leaders called for the first ever American-African Summit due in August.
By Charles Etukuri and Agencies

Uganda's President Yoweri Museveni is among African leaders invited by US President Barack Obama to the first ever American-African Summit scheduled to take place in August this year.
Slated to take place in Washington in the first week of August the summit will convene three months in the wake of the Chinese Premier Li Keqiang tour of Africa.
Recently Li visited Ethiopia, Nigeria, Angola and Kenya. The tour was largely seen as a step towards enhancing strategic mutual trust as China seeks to upgrade its relationship with Africa through trade.
The tour was largely seen as a step towards enhancing strategic mutual trust as China seeks to upgrade its relationship with Africa.
Foreign Affairs Permanent Secretary Ambassador James Mugume confirmed that President Yoweri Museveni would attend the one week event.
"Yes we received an invitation and the President will be going to the US for the Summit," he said. He refused to discuss further details.
According to Fernando Mora, the Editorial Director of United World a leading press and communication agency, the American-Africa Summit is a result of the change in the US policy to rebuild its relations with African countries where parties look at each other as partners.
true
"African countries and economies are growing very first and there is need to look at them as new partners rather than subordinates," he said.
Leading a team of United World, Mora is in the country carry to carry out an assessment of commercial opportunities with the main focus on energy, telecommunication, agriculture and tourism, education, finance, IT and infrastructure to feature in US Today as a special supplement on Uganda during the summit.
The team has interviewed several top government officials in Uganda including the Minister of Finance Maria Kiwanuka.

United World's special supplements are inserted in top world newspapers including US Today. Each supplement is introduced by exclusive interviews with the some of the top business personalities and decision makers in their respective countries.
In 2006 China invited African leaders to the first China-African Summit attended by heads of state which has since shaped the relation between China and the African continent. Several other meetings have been held of them was the 2012 African leader's summit in Beijing at which China pledged $20bn (£12.8bn) in credit for Africa over the next three years, in a push for closer ties and increased trade.
But even though American sources were quick to deny  the Chinese growing influence had rattled America  reports show the US is on the brink of losing its status as the world's largest economy, and is likely to slip behind China  sooner than widely anticipated, according to the world's leading statistical agencies.
According to a report published recently by the International Monetary Fund expects China's economy to have grown 24 per cent between 2011 and 2014 while the US is expected to expand only 7.6 per cent.
It is widely believed that China's interest in Africa have renewed the fight over the control of the content as both the West and China fight for its control. And that America was responding by inviting African leaders to the summit to counter China.
true
The headquarters of the People's Bank of China. Recently, the African Development Bank and the People's Bank of China entered into a $2b (about sh5 trillion) co-financing fund  PHOTO/AFP
But Mora dismisses views that the upcoming summit is a knee jerk reaction to the Chinese growing influence in Africa.
The US biggest investments in Africa and the world over have been in the areas of security and technology whereas China focus of recent has been in infrastructure development.
Most African leaders now seem to be moving towards China and abandoning the West because of China's policy of non-interference in the domestic affairs of their states.
This can be confirmed in the nature of the trade volumes between Africa and China. About 20 years ago exports from Africa to China were negligible but today China is Africa's biggest trading partner. Around $250 billion-worth of goods moved between the two last year and almost all the stuff shipped from Africa were raw materials.
This explains why China's Premier's visit has attracted a lot of attention from the Western countries especially America and Britain who now see China as a late comer to Africa and a modern colonialists bent on grabbing Africa's natural resources just like the West did several centuries ago when they scrambled for and colonized Africa.
Africa is regarded as an important source of raw materials which feed China's economic boom and a market for cheap Chinese products and in return Africa has benefited from huge infrastructure projects.
During his tour for instance, Li pledged Chinese assistance for an African blueprint to connect regional countries with high-speed railways, expressways and air routes. He also promised to quadruple investment and strengthen trade ties in the continent, and this was illustrated during his four-nation tour and the number of agreements he signed. 
China believes that by improving transportation on the continent, building roads, they will have injected vitality to the development of the African economy.
On the last day of his tour Li signed a major agreement which was the multi-billion dollar standard gauge railway project, expected to boost trade links between Kenya, Uganda and Rwanda.
China will fund 90% of the first-phase from the port city of Mombasa to the capital Nairobi, expected to cost 3.6 billion dollars.

Also related to this story

US, Uganda discuss Kenya attack
Obama sees no threat in China rivalry for Africa business

US HIV/AIDS funding to Uganda to continue

China opens multilateral approach to Africa with $2bn fund
Obama invites Museveni for African leader's summit