So there is a new Big Brother coming up. You heard when we told you the other day that it's got a new gimmick. Partners. Pairs. People enter two-two. Like Noah's ark.
By Kampala Sun Writer
So there is a new Big Brother coming up. You heard when we told you the other day that it's got a new gimmick. Partners. Pairs. People enter two-two. Like Noah's ark.
Now, Kampala Sun has been keeping an eye on the developments, even though the Big Brother company tries their best to keep things hush hush so nobody knows until the very last second, when IK or Kabelo or whoever it is this year, announces their name, who it is that is actually going to enter the house. But we managed to get a bit of data. We have suspects. We have a list of the people who might be going in.
Now, we have discarded those who nobody cares about (if you are one of them and you are offended, don't worry. You are not famous yet. When you succeed in getting in, we will make so much noise about you you will become sick of your own name) and focused on the potential entrants who are known.
Let's gauge how each would possibly perform in the house.
Natasha and Michael, from Kombat Dancers:
They are well-known choreographers who put on dance shows and give dance lessons at their dance studio. Both have high credentials as good lookers. But besides that, what entertainment value do they have? Even Natasha's single flopped. Perhaps they should go for Africa's Best Dance Crew and leave Big Brother alone.
Daniel Omara and Hellen Lukoma:
Both from The Hostel, Uganda's answer to Grey's Anatomy/ House/ Marichui. Omara's quick wit and natural charm have earned him fans both as an actor, but mostly for his standup comedy. Lukoma was just another pretty face until she showed us that she can act, as a nasty little bitch on The Hostel. This team might be worth watching. But will they have any chemistry together? Remember how they fought and fought on season one of Hostel?
OTHERS
The rest of the people on this list, we don't know who they are partnering with, but we know that they have applied to go in.
Brother John:
Brother John, aka Michael Wawuyo Jr. If he gets in, he had better pull some huge magic rabbits out of his hat and impress us, because otherwise, we don't know what to look forward to with him. Yawn.
Patrick "Salvado" Idringi:
Now, that's much better. Brash, cocky, witty, a bit sleazy and we remember that he is a man who likes to catch his swallow before it has a chance to escape. If Salvado gets into the house, whoever his partner is, we will have no shortage of bad manners to enjoy.
Former Girl Group Members:
Now, these ones are not going in together according to our intelligence—they each have their own partners—but we hear that Leilah Kayondo (from Dream Gals) and Peace from Chilli Galz were both shortlisted. This looks like a repeat of Sharon O in the making.
Jackie Klein:
The most useless celebrities of all are Socialites. They have little to no entertainment value on their own, but this might be the chance for Jackie Klein to actually do something worthwhile to justify us paying attention to her. Socialites usually have fragile egos and loud personality disorders and will be fun to watch. Let's see if Klein is that kind of socialite.
Of course, this is just our reading of the shortlist of potential housemates. Let us wait and see if we are right. And if any more fresh celebrity names seep in, we shall bring them to you.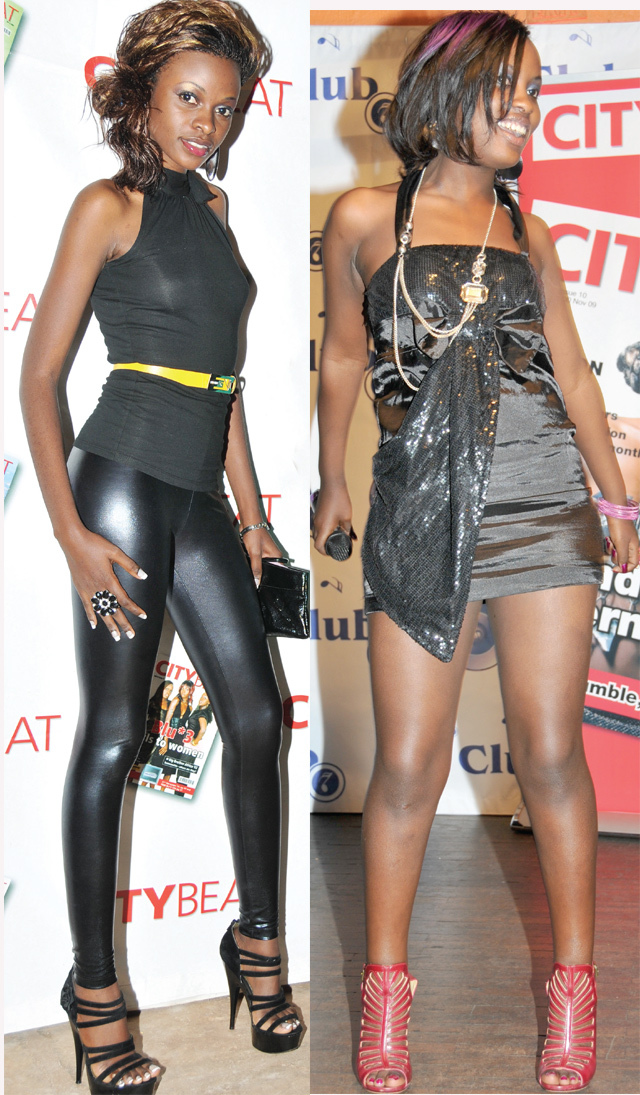 Hellen Lukoma(L) Leilah.The reincarnation of Sharon O perharps(R)
A couple of Big Brother suspects