From protests in Greece and demonstrations in neighbouring Kenya, take a look at what has been happening around the globe through the camera lens.
PICTORIAL

Here is a our selection of pictures from around the world this week:

_________________________________

On Friday, a woman walks amongst debris next to a damaged bus in Hitoyoshi, Kumamoto prefecture, after heavy rains and flooding devastated the region. Japanese emergency services and troops scrambled on July 9 to reach people cut off by catastrophic flooding and landslides that have killed dozens and caused widespread damage, with more torrential rain forecast.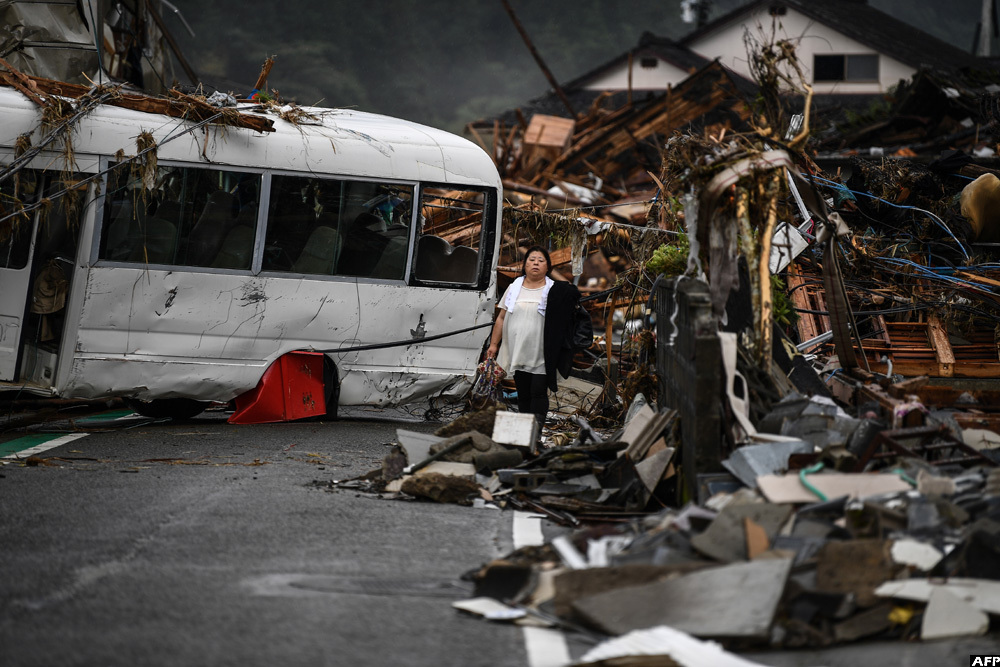 The day before, damaged and overturned vehicles are seen in a river following heavy rains and flooding in Hitoyoshi.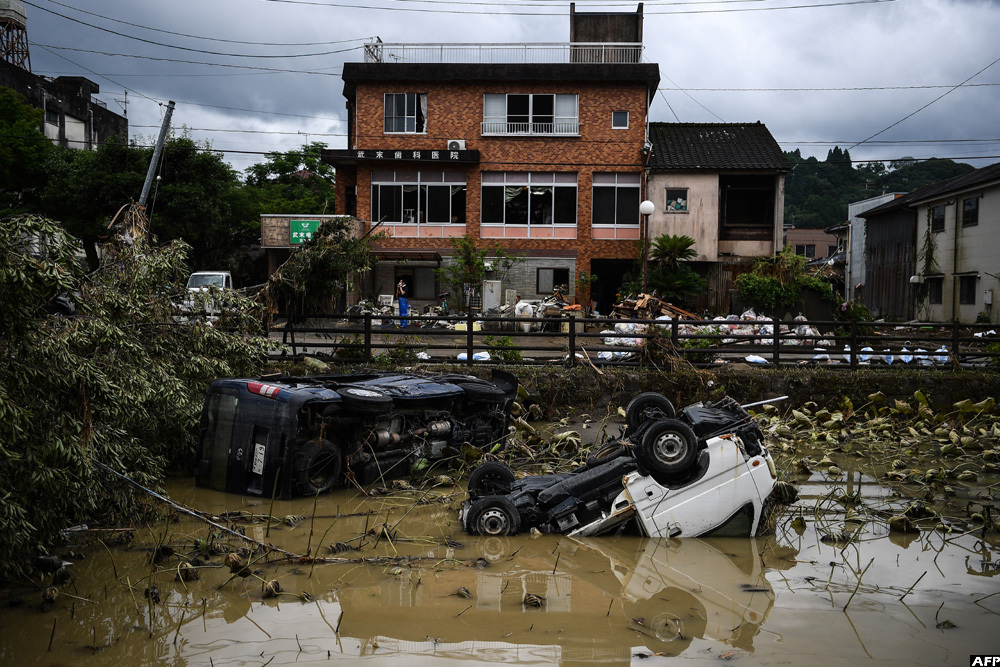 Also on Thursday, residents and rescue workers inspect the area outside a house damaged by a landslide and the swell of the Thado-Koshi river due to heavy rains in Jambu village of Sindhupalchok district, some 80 kms northeast of Kathmandu in Nepal. Two people died and several others have gone missing, local media reported.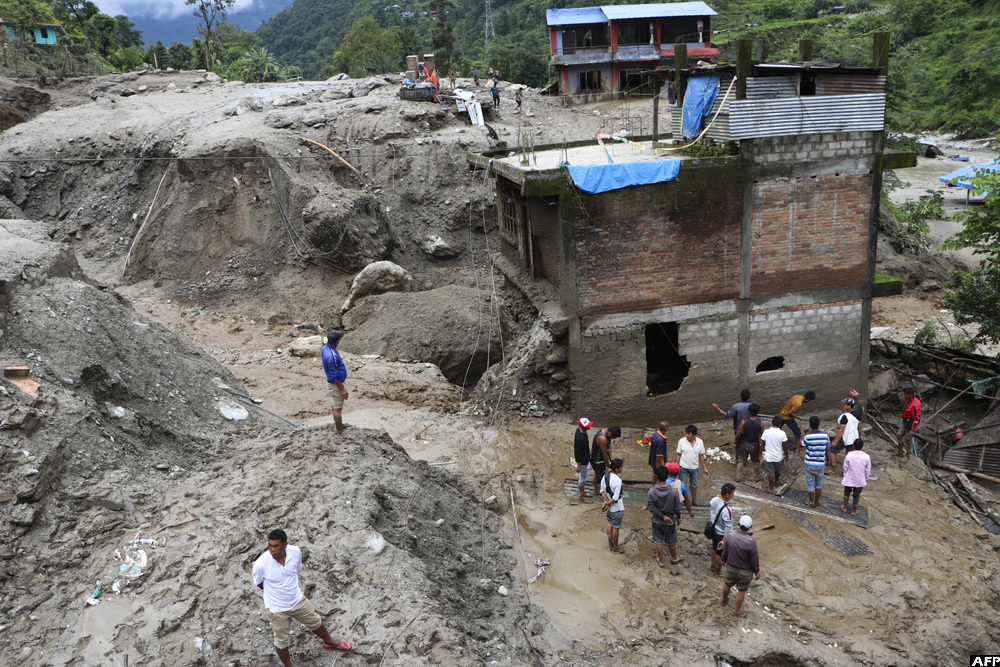 On Wednesday, in Hong Kong, a man carrying an umbrella looks for shelter during a sudden but brief heavy downpour.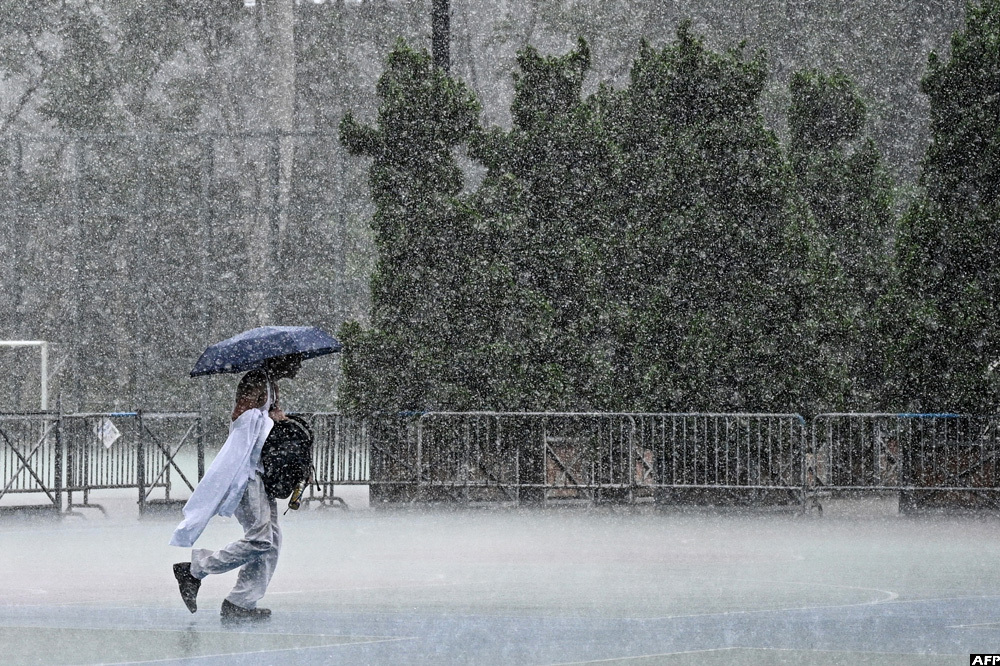 The same day, people (foreground) swim in the swollen Yangtze River as the roof of an inundated pavilion is seen above floodwaters in Wuhan in China's central Hubei province.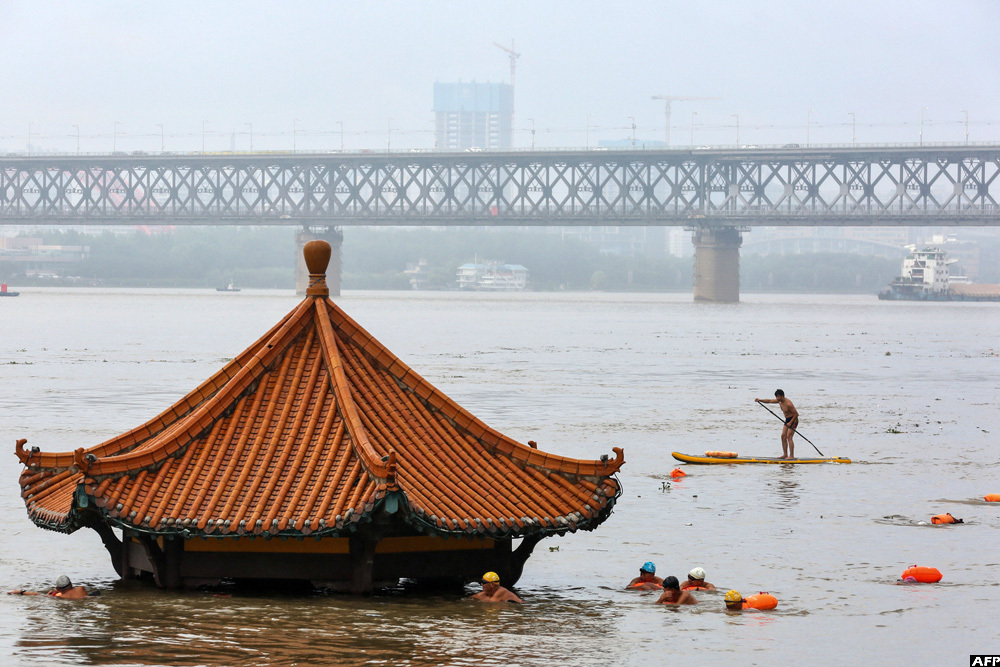 The following day, on Thursday, a woman carrying a child waits to board a special train to Rajasthan after the government eased a nationwide lockdown imposed as a preventive measure against the COVID-19 coronavirus, at MGR Central railway station in Chennai.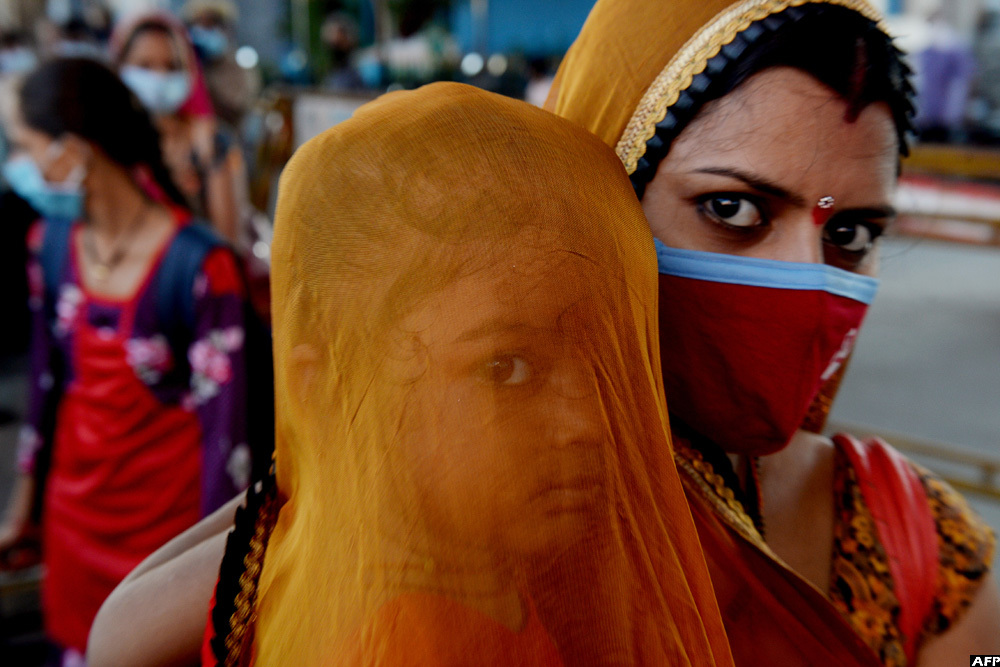 The same day, instructor Chablis Torres reads to children in a pre-school class, wearing masks and at desks spaced apart as per coronavirus guidelines during summer school sessions at Happy Day School in Monterey Park, California. California Governor Gavin Newsom says the reopening of California schools for the coming school year will be based on safety and not pressure from President Donald Trump as California sets records for one-day increases in COVID-19 cases.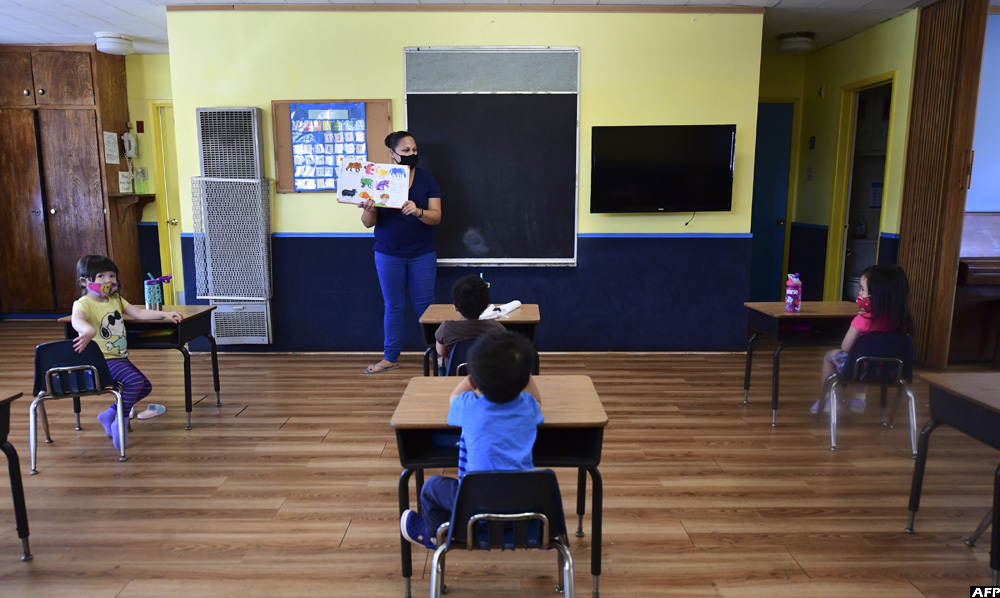 On Wednesday, a health worker checks the temperature to residents from surrounding communities heading to the weekly food market in Coata, 40 km of Puno and close to the border with Bolivia. The municipality of Coata has imposed mandatory disinfection and screening to all who visit the weekly fair, to avoid the the novel coronavirus from infecting the community as this remote district has not reported any COVID-19 cases. Peru ranks second in Latin America after Brazil with 312,911 cases, registering so far more than 11,000 deaths.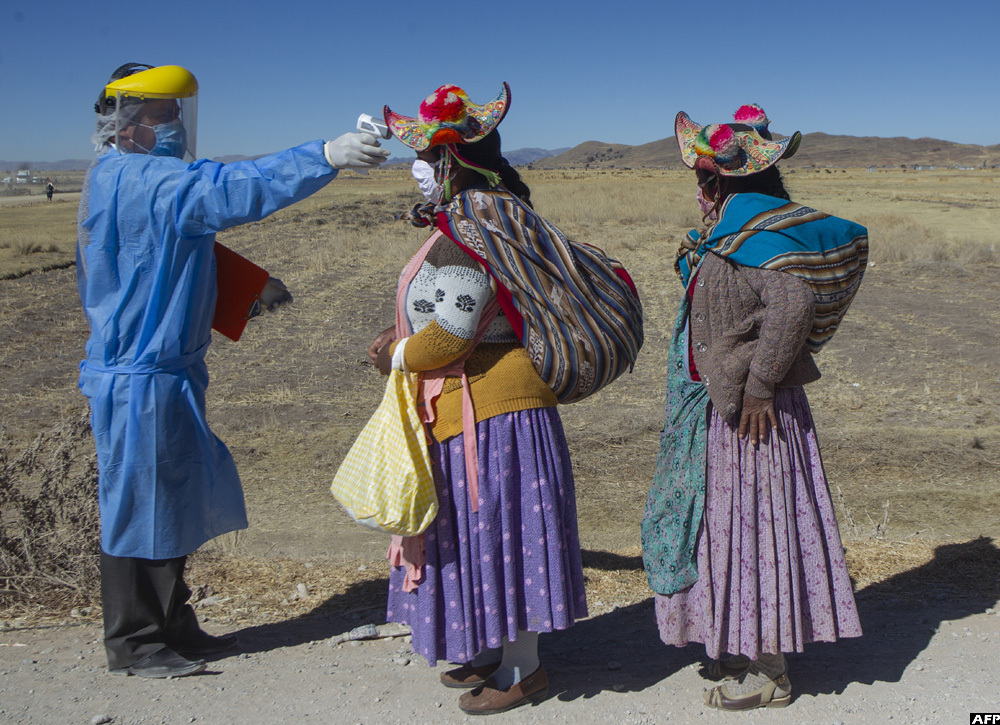 On Thursday, a Palestinian girl pauses at the entrance of her home at the al-Shati refugee camp in Gaza City.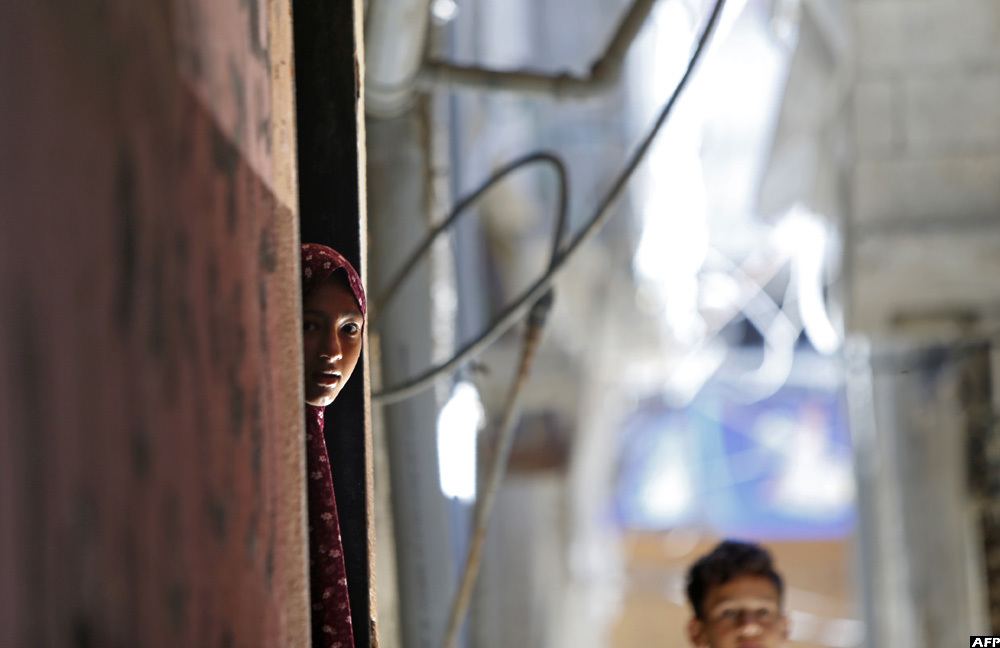 The day before, a woman stands behind her door in a closed street after Moroccan authorities declared a total lockdown following the discovery of many COVID-19 cases in a fish canning factory in the southern port city of Safi. - Morocco reported Sunday 698 additional novel coronavirus infections, the highest one-day increase since the outbreak began in early March, with numerous cases discovered in the port city.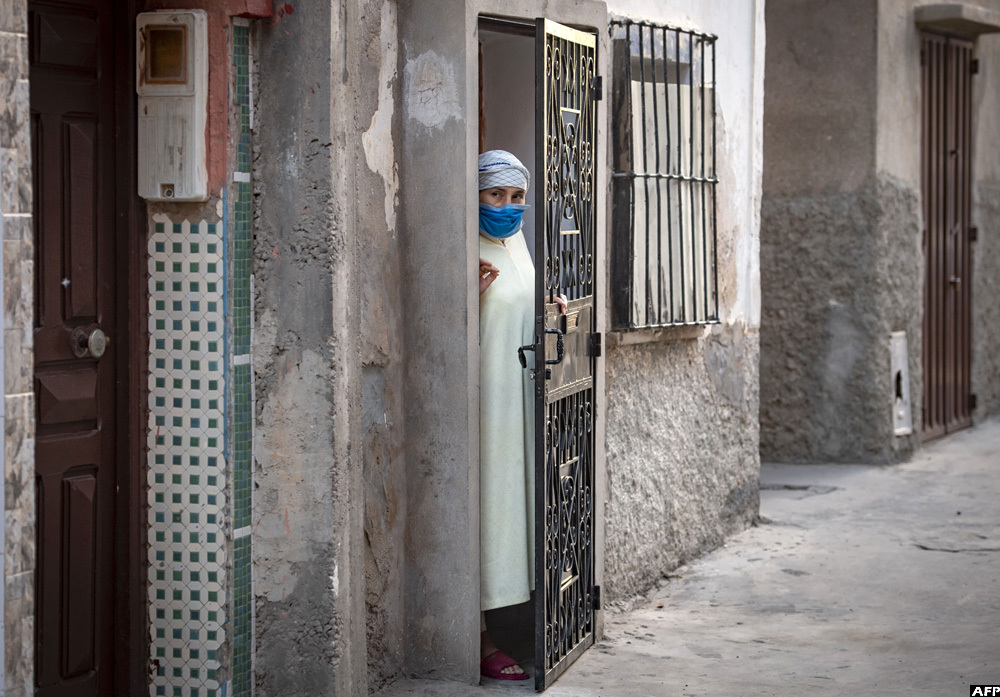 Also on Wednesday, a man walks by a mural dedicated to health workers in the Sudanese capital's twin city of Omdurman, as the country eases lockdown measures following three months of tight restrictions due to the COVID-19 pandemic.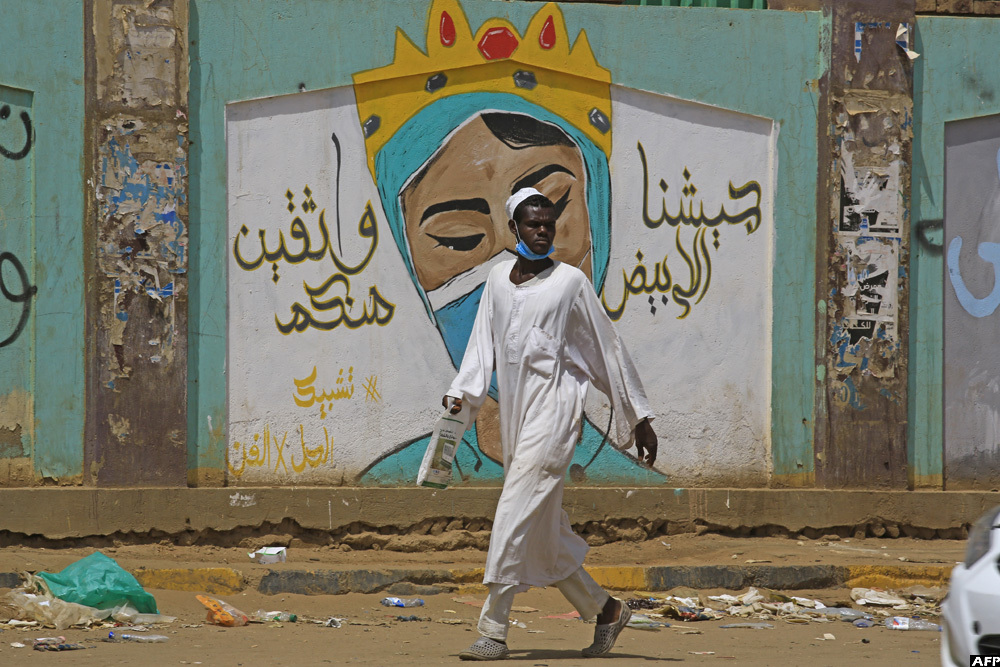 On Thursday, protesters run amid tear-gas smoke during clashes with riot police during a demonstration outside the Greek parliament against a new law on protest rules in Athens, Greece. Thousands of Greeks demonstrated on July 9 against a new law tightening street protest rules that has been criticised by the opposition as undemocratic. Outside parliament in Athens, some protesters threw firebombs at police as the government majority was expected to approve the bill in an evening vote. Around 10,000 people participated in three separate Athens protests against the new law, a police source said.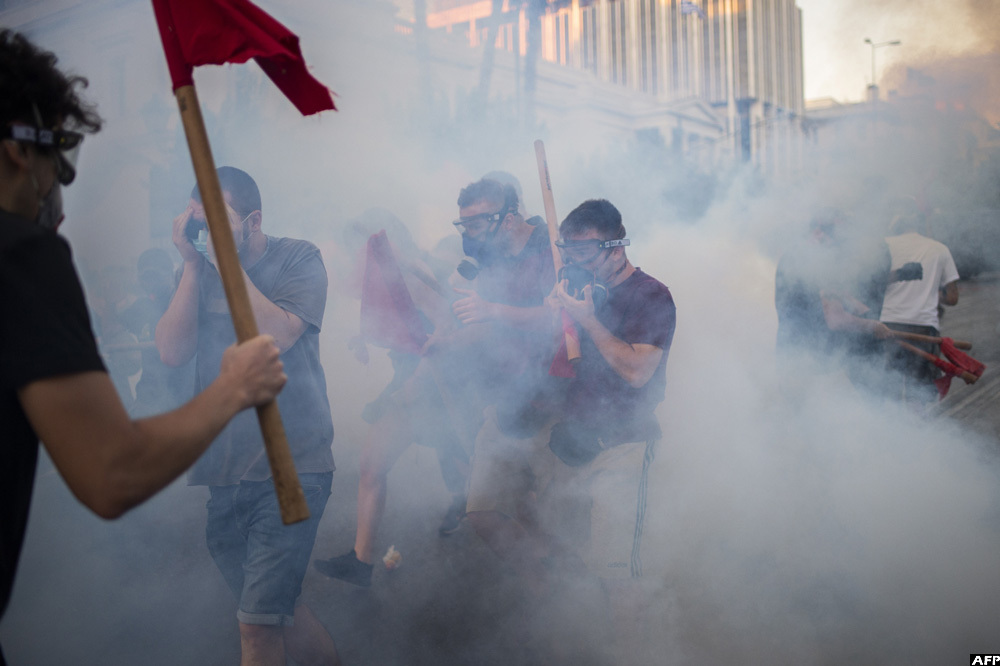 Here, riot police officers run past a burning barricade as they clash with protesters during the demonstration.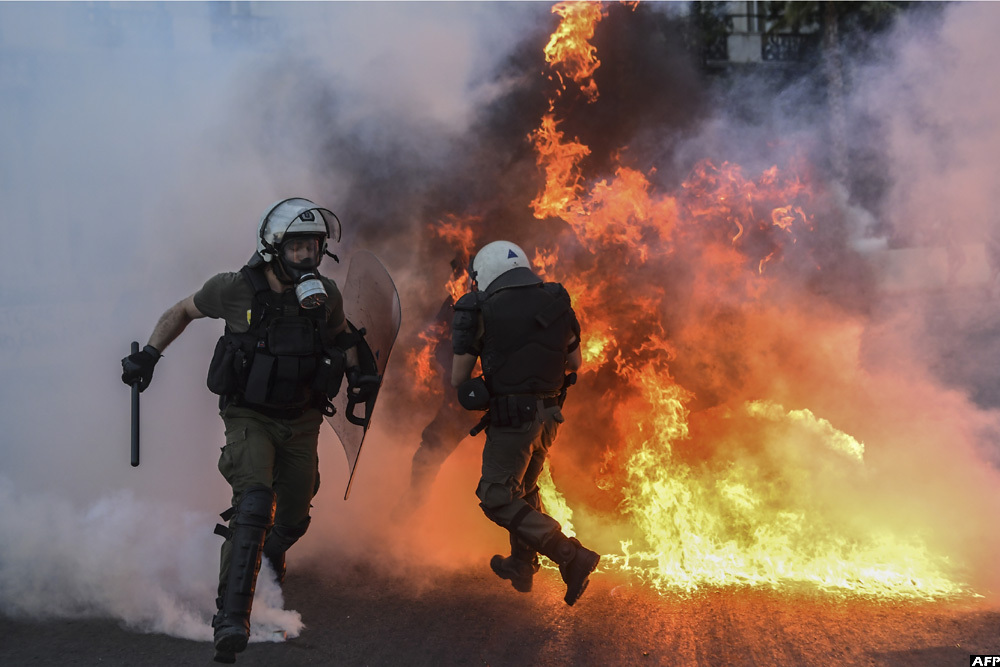 Meanwhile, on Wednesday, protesters clash with riot police outside Serbia's National Assembly building in Belgrade, during a demonstration against a weekend curfew announced to combat a resurgence of COVID-19 infections. Serbia's president said that a weekend curfew to combat a resurgence of coronavirus infections might be scrapped after the measure sparked angry protests that ended in clashes with police.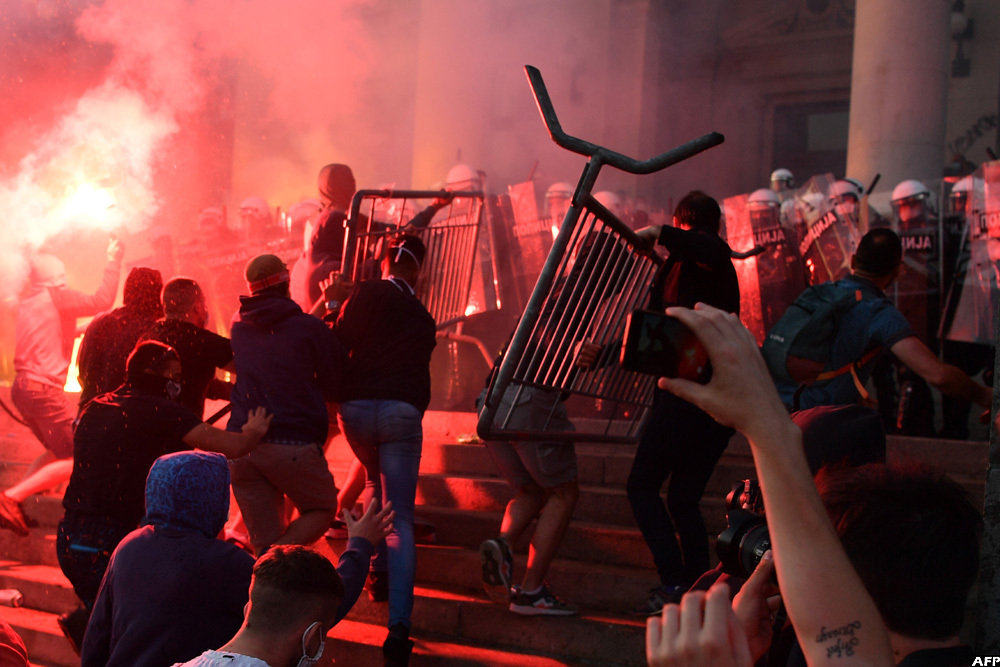 In the Kenyan capital Nairobi, on Tuesday, a protestor kicks an unexploded canister of teargas back in the direction of police officers who fired it, during a march to protest against police brutality and harassment, especially against the poor. Supporters of human rights causes marched to demand accountability from the police force whom they accuse of using excessive force, including arbitrary arrests and extra-judicial killings especially during security crackdowns in Nairobi's poverty-ridden settlements.
The protests are also known as saba-saba, a phrase used to reference demonstrations that took place on the seventh day of the seventh month to agitate against the authoritarian rule of a then single-party state in the 1990s.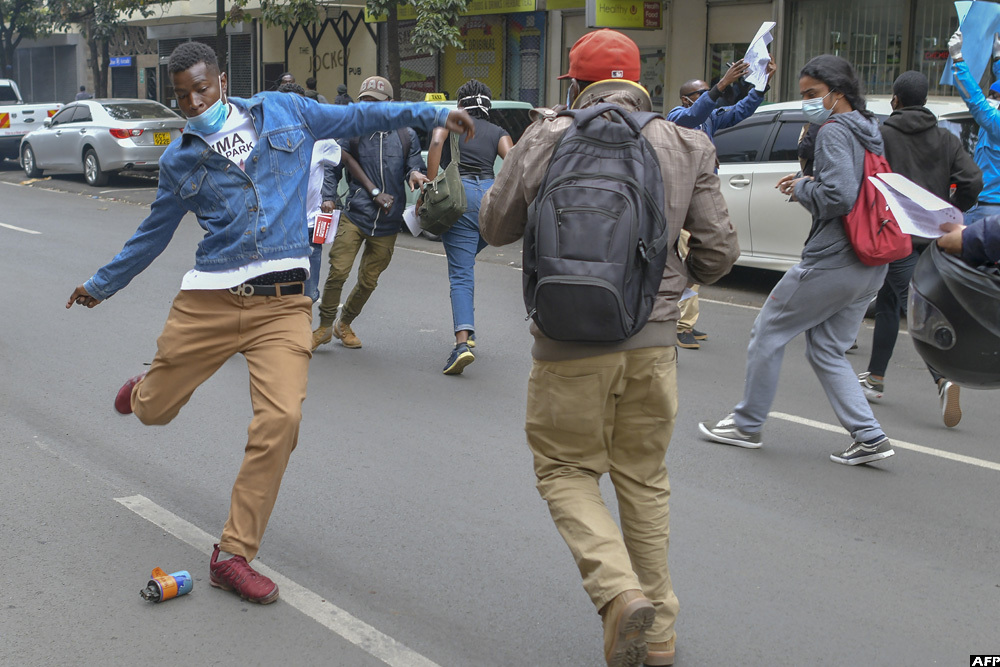 On Thursday, activists paint a new Black Lives Matter mural outside of Trump Tower on Fifth Avenue in New York City.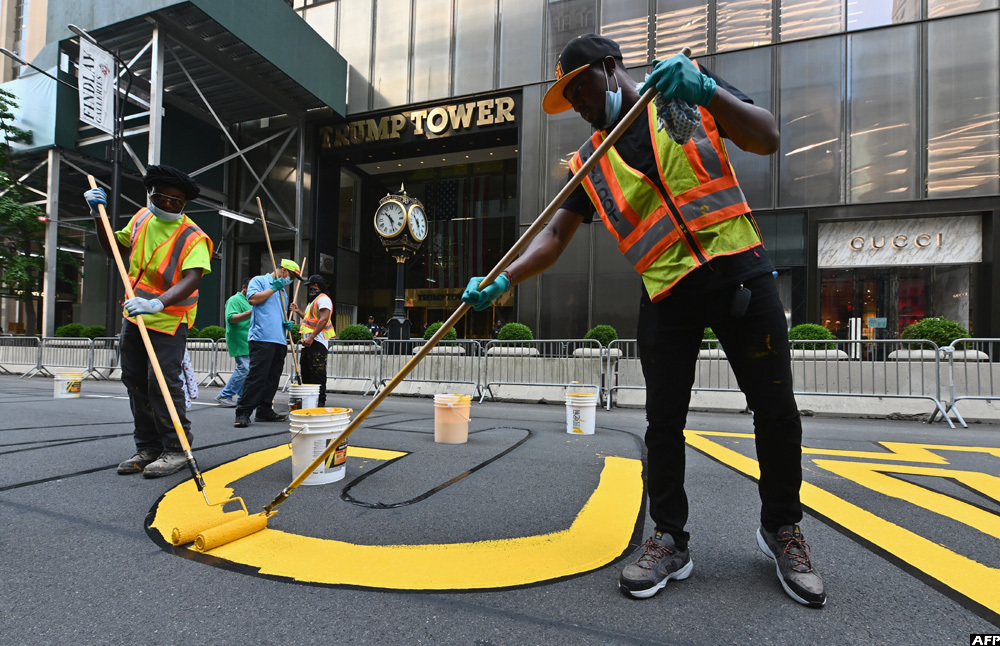 Two days earlier, US President Donald Trump sits with his arms crossed during a roundtable discussion on the Safe Reopening of America's Schools during the coronavirus pandemic, in the East Room of the White House in Washington, DC.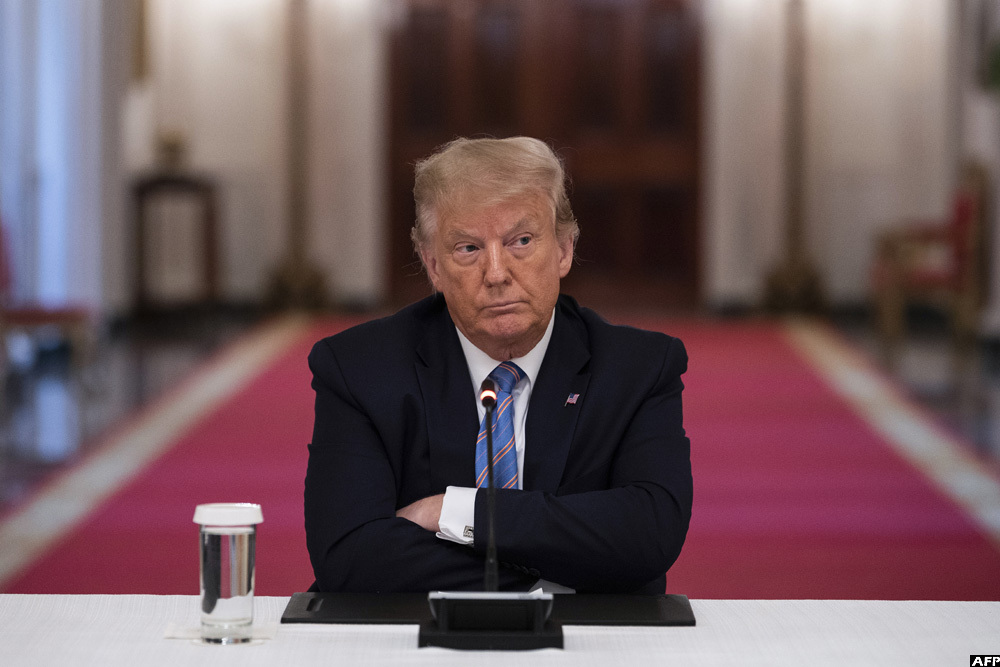 On Wednesday, a deported migrant holds crosses in front of a US flag during a demo against President Trump's migration policies at the San Ysidro port of entry in Tijuana, Baja California state, Mexico. That day, Trump hailed his "outstanding relationship" with Mexican President Andres Manuel Lopez Obrador as he welcomed him to the White House for the first meeting between the two leaders.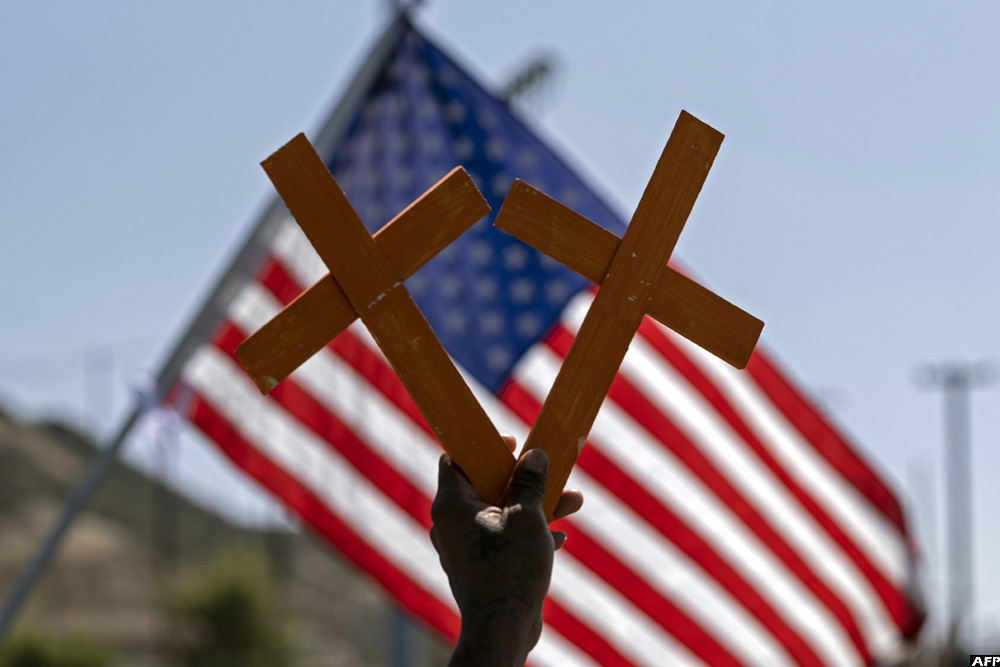 Elsewhere that very day, employees walk past portraits and drawings are displayed on chairs, amid the coronavirus pandemic, during a protest outside the Hamburg plant of European aircraft maker Airbus as part of a nationwide day of action called by IG Metall union against Airbus job cuts under the motto "If we stick together, everything is possible". Airbus said last week it is planning to cut around 15,000 jobs worldwide, 11 percent of its total workforce, in response to the "gravest crisis" the industry has ever seen.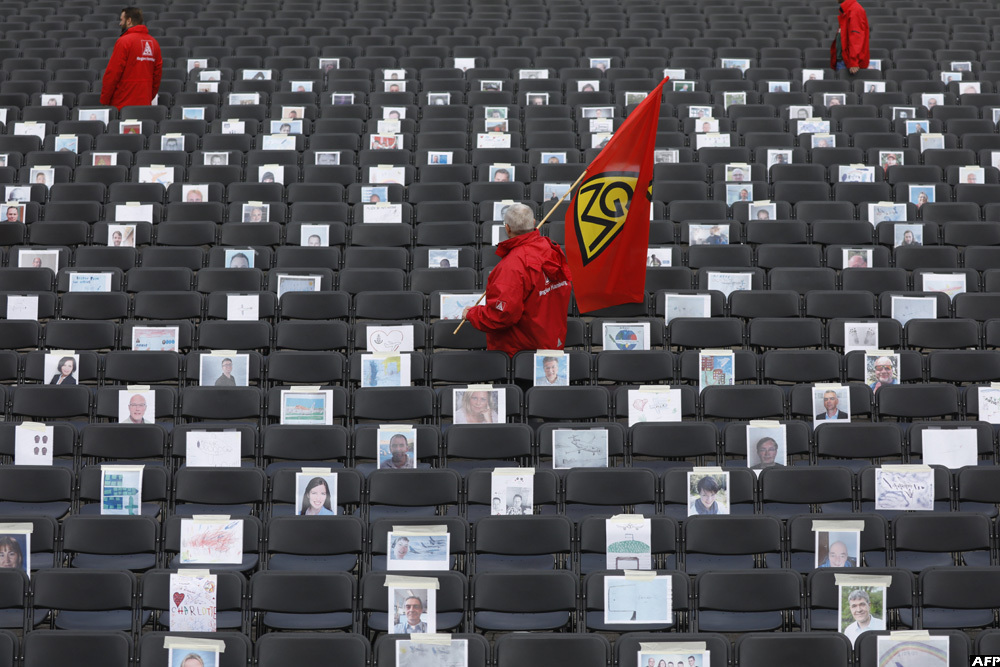 On Thursday, French Interior Minister Gerald Darmanin puts a medal on the coffin of late Gendarme Melanie Lemee during a ceremony at the Gendarmerie headquarters in Merignac, a suburb of the city of Bordeaux. Lemee, who was fatally hit by a car at a military checkpoint on the D813 road to Port-Sainte-Marie next to Agen on July 4, was posthumously awarded France's Legion of Honor.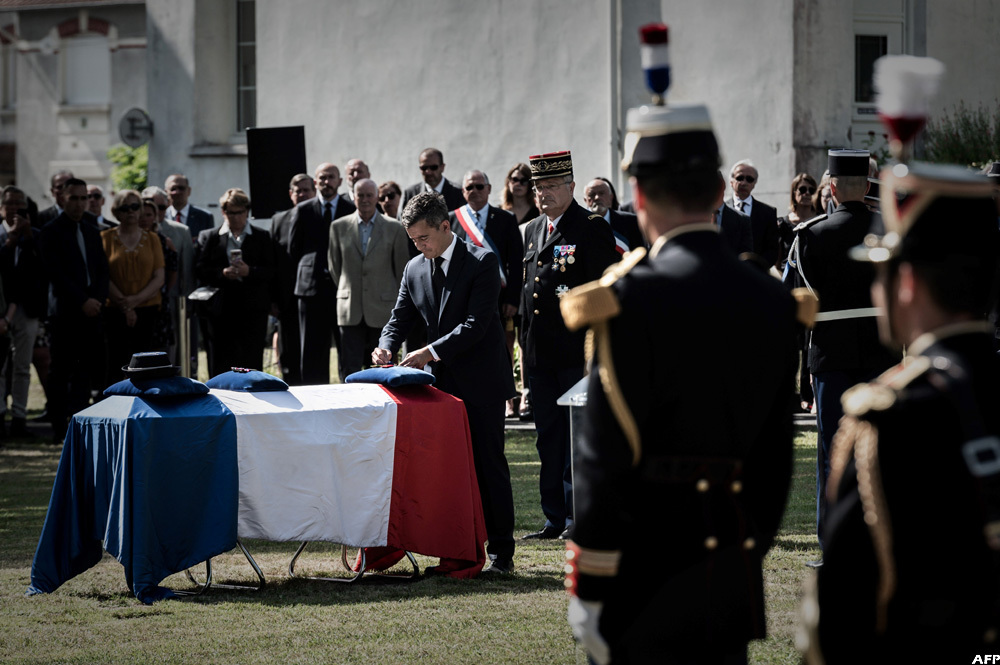 The same day, a man looks at local newspaper headlines in Ivory Coast's capital Abidjan, a day after the death of Ivorian Prime Minister Amadou Gon Coulibaly at the age of 61.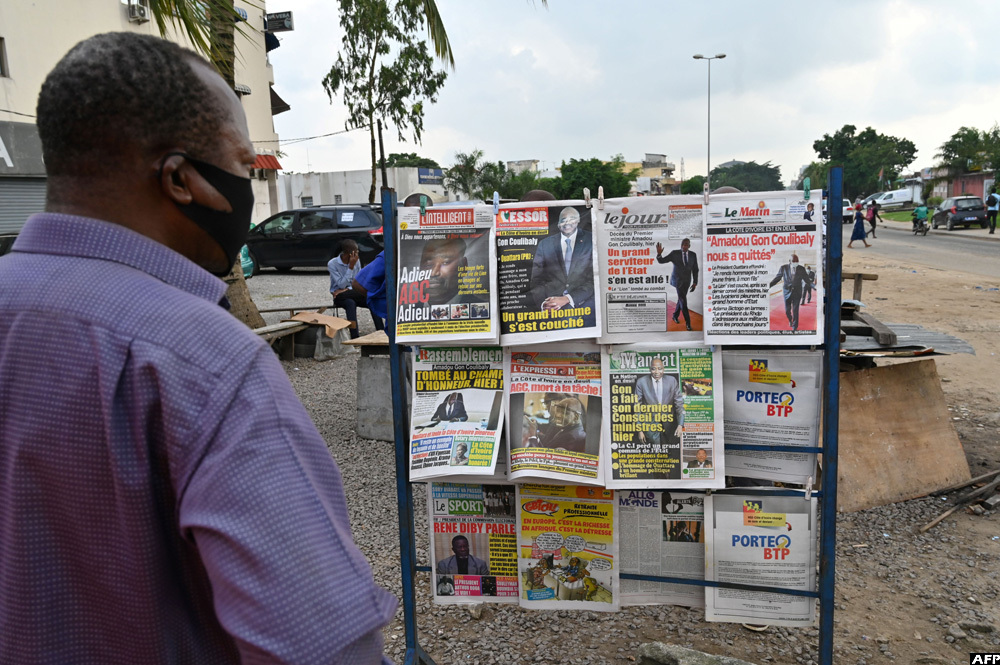 Also on Thursday, but several miles away in London, US actor Johnny Depp gestures as he leaves on the third day of his libel trial against News Group Newspapers (NGN), at the High Court. The Hollywood superstar testified that he was so often high or strung out on drugs that he was "in no condition" to hurt his ex-wife Amber Heard. Depp is suing the publishers of The Sun and the author of the article for the claims that called him a "wife-beater" in April 2018.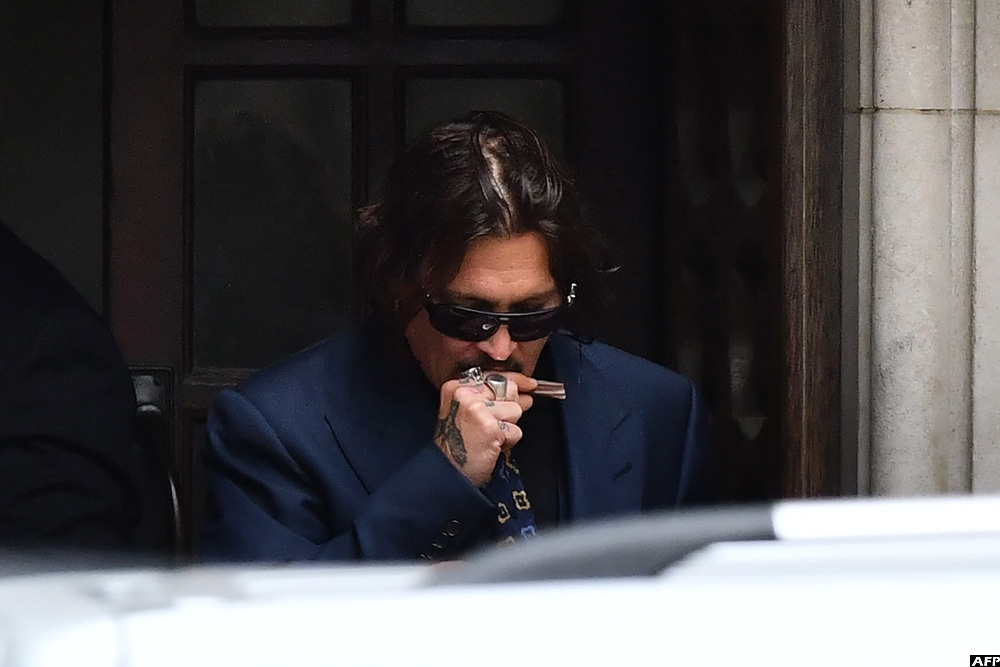 Meanwhile, the new Archbishop of York, Bishop Stephen Geoffrey Cottrell holding the Braganza Crozier kisses his wife outside York Minster Cathedral after his confirmation of election service in York, northeast England.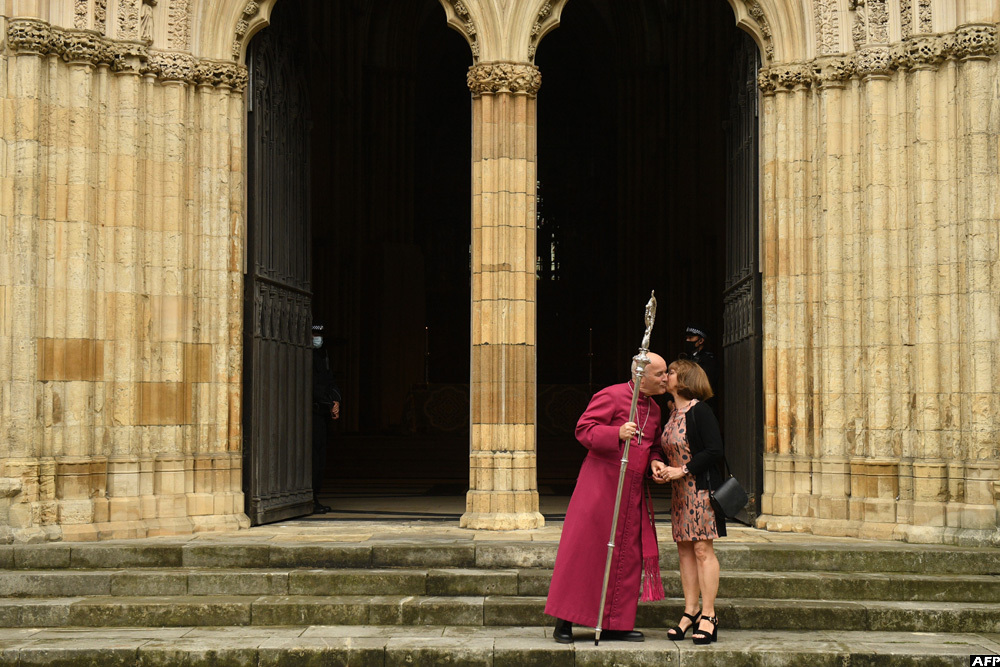 A Buddhist monk sweeps around statues illustrating the fate of people who do bad deeds in a garden depicting a Buddhist version of hell at the Wat Saeng Suk temple in the Thai coastal province of Chonburi.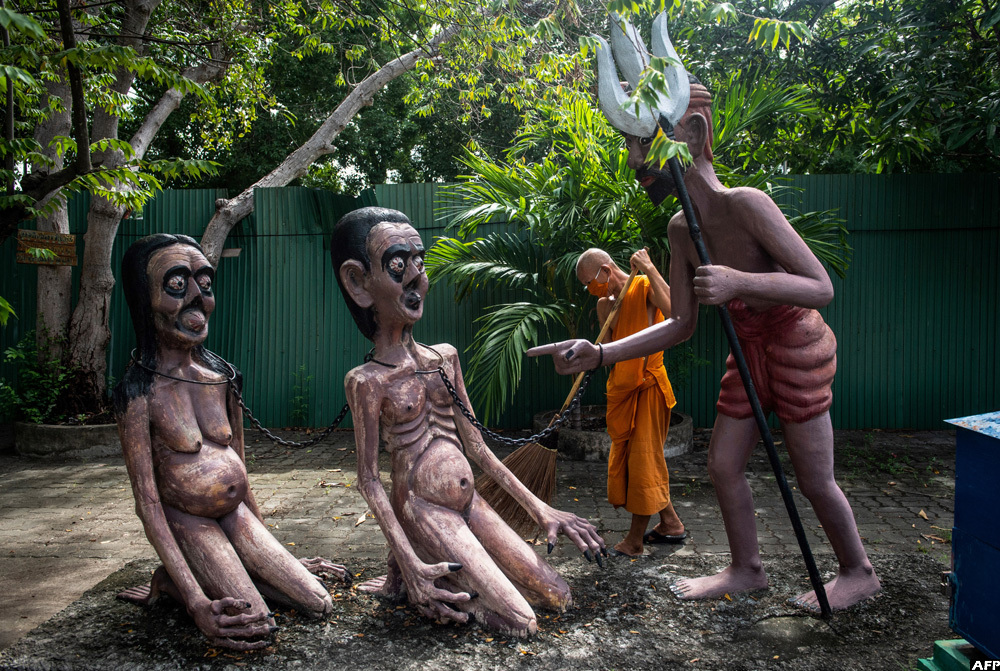 Mobile hats vendor Wang Shang-chi, 75, a , rides his bike on a parking lot next to the Taipei City Zoo on Thursday.